Last week I went to Zumba for the first time in AGES. From the moment I walked in the door, this post started writing itself. I waited a week to see if my initial impression was validated. It was, with one exception. Last week I would have sworn that my uterus was going to fall out. This week an obviously pregnant woman kicked my ass. In that one area, I *may* have exaggerated. But everything else is true. Here you go….
I went to Zumba class tonight. First time out exercising (or extrasizing as my kids call it) in a LONG time.
The class looked like a PSA against teenage pregnancy. No one in the front half of the room was over 20 and no one in the back had less than 2.5 kids. (Note to self: condoms would be a runaway bestseller during the break.) There was a lone Chinese man in the middle. I have no effing clue what he was doing there, but he had fun.
Me and the other 35 white women (and Chinese man) moved and grooved, did horrible approximations of the merengue and despite multiple attempts, in no way came close to replicating Shakira's hip rolls. But we moms did have a natural advantage and we wiped the floor with those self-conscious teenagers. (After crapping out multiple kids, public butt-shaking is nothing.) If a few skinny young butts got hip-checked out into the hallway, that was no one's fault but their own.
Thanks to the $100K my mom claims to have spent on 13 years of dance class, I hung right in there with the choreography. The actual movements were a whole other matter. I may have survived two rounds of childbirth, but I swear, the "ab-building, Chubby Checker on crack, jump up and down and twist in overtime" move nearly caused my uterus to fall out. I could feel things moving that are NOT supposed to move.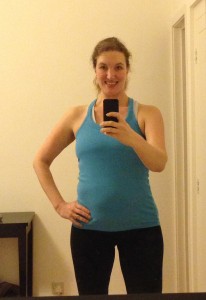 I've got two classes behind me now. I've somehow managed to pull my one ab muscle and something in my hip. But I'm pretty sure I'm super skinny now. Here's a photo of me, sucking it in and doing my absolute best model pose in crappy lighting…what do you think?
Ok, maybe I do have some more work to do. I guess I'll keep going. If nothing else, I gotta show those young bitches who is the boss…know what I mean?