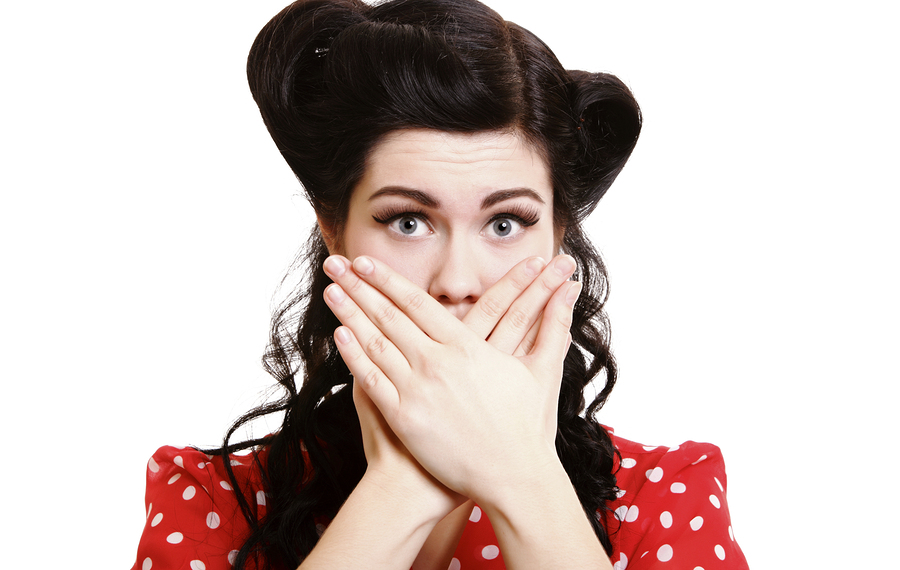 When my husband and I got engaged, I was amazed by how many people asked me about my last name. Most people assumed I'd switch and "won't that be cool to have an Italian last name!" When I explained that I was planning to keep my own name, people looked at me like I'd just admitting to beating puppies and immediately worried that my husband-to-be would leave me as a result.
Deciding to keep my own last name was easy. I had spent 30-odd years building it up and as much as I love my husband, I didn't think he was worth abandoning everything I had done before. Plus, the thought of doing all of the paperwork and then having to get new versions of every single document in my life made me twitchy. My husband did briefly hem and haw, but when I reminded him that women in Italy don't change their name either (his own mother included), he realised that he didn't have any real ground to stand upon. The battle was over before it had even begun.
Well, sorta.
Even though I didn't change my name, there are some people that are determined to ignore that fact. Exhibit A: my family. It boggles the mind. My dad recently mailed me a care package addressed to "Lynn Abcde" (name changed to protect the innocent…namely, my kids) instead of Lynn Morrison. I had to retrieve it from the post office and it was sheer luck that they didn't ask to see an ID before relinquishing it. This prompted phone call #257 to my dad to remind him that I still had the name HE had given me some 30+ years ago. "Dad, my name is the SAME as your own. Why is this so hard to remember?"
All of this got me thinking about what is in a name. What is it that makes us decide to change (or not change) our names? Society likes to paint this as a feminist issue, but I have to disagree. I reached out to some of my fellow BLUNTmoms and asked them whether they had changed and why they made the decision they made. Here is what they said:
THE NAME CHANGERS
Some people tried to blame it on their kids:
I changed because we had kids before we got married but I knew we would ultimately end up married at some point so our kids had his last name. We got married shortly after the last kid and I'm glad I did because our son who was 4 at the time asked why my last name was different than his.
Others did it for their man:
It was important to him that I took his name, also my maiden name was Wasilewski, no one has ever been able to say it and I was always last in school so moving up the alphabet was a no brainer for me.
I took my husband's name because he asked me to. Sounds simple, yah? Here's the scoop: he's gentle, calm, mellow, softspoken, giving, never asks for anything and he asked me for that. I am none of those things but giving and so I gave him the name. It's the least I could do, he was prepared to put up with me FOREVER! (side note: this shmoopy comment set off a round of suggestions of other ways she could have pleased her man…they were WAY too racy for me to print here, but I will reveal if you comment and ask for them.)
My personal favorite was this response: I only took his name on my credit card… so he'd pay the bill. Ha ha. (why didn't I think of this???)
And others did it for reasons entirely of their own…
hmmm. Well. My divorce came through 10 days before we were married. I didn't want to keep my ex's name, so the new hubby's seemed like an easy option. I was changing it anyway, might as well take his!
(oh, and in school, I was a K. There was always a lot more M's & N's and they had a better locker zone. I think subconsciously I liked the fact that I was going to be an N finally)
I couldn't wait to get rid of my maiden name. No one could pronounce it and I am not too fond of my dad so yeah, there's that.
THE REBELS
I'm calling those of us who didn't change their names the rebels because we were by far and away in the minority. Sadly, most of us seem to have stuck our names out of apathy or laziness…hmm, maybe rebels isn't such a good name for us after all:
On a good day, I can hardly remember my given name of 41 years. To change it would be amnesia.
My ex's last name is Seeman. Any questions why I stuck with Smith?
What did you do? Did you change your name to make a matched set or did you keep hold of your original identity? Why did you make the decision that you did?