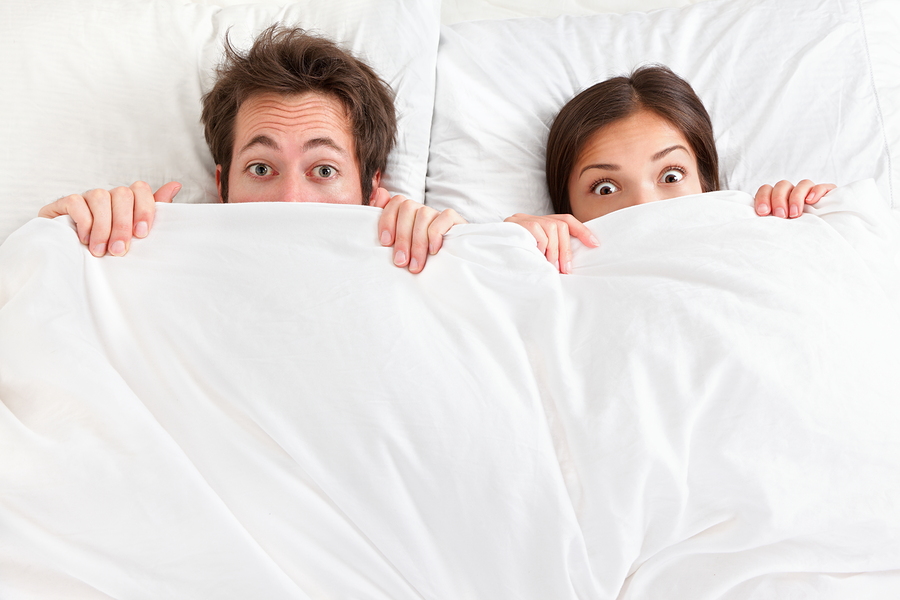 My kids don't want any more siblings. Oh sure, they might *say* they do, but as soon as I even think about the giving the one-eyed snake a little attention, those two little cockblocks start popping up faster than a whack-a-mole.
Take the other morning for example. My husband sleepily rolls over and snuggles up behind me. Just as the old hot rod starts revving its engine at my back door, I open my eyes to find a little blond mop staring at me from two inches away. I reared my head back so fast that Loverboy didn't have a hope in hell of protecting himself. I'm pretty sure that the neighbors four houses down heard the sound of our noggins cracking against one another. The only upside is that we were knocked so senseless we almost managed to convince ourselves that we'd had sex anyway.
Morning sex becomes practically impossible when you're dealing with a kid who wakes up before the cock crows. Literally. (See what I did there?) Once I tried to bribe my kids with a video so they'd sit quietly in the living room and give mommy and daddy some extra "sleeping" time. Do you have any clue whatsoever just how impossibly hard it is to have an orgasm with mother-effing Caillou playing in the background? If there's going to be any squeaking and squealing going on, I'd like it to be restricted to my own mouth, m'kay? CaillouCoitus Interruptus should be listed as one of the leading causes of blue balls in medical journals.
What about the shower, you say? Well, what about it? There's nothing sexy about deep conditioning the ball fro with Doc McStuffin shampoo and let's not even mention the fact that every flat surface in the tub is covered in bathtub toys. Where the hell am I supposed to put my foot? To spice things up, the other day I drew a treasure map pointing to my personal pleasure chest. I've never seen a man droop as quickly as my husband did when he realized I'd used the kids' bathtub crayons. (In my defense, given the overgrown nature of the surrounding forest, I felt that some additional visual guidance was required.)
No, sadly, there's nothing left for us now but to fall into bed late in the evening and hope that we manage to slip it in before we slip off into dreamland. Even then, it's like there's some sort of cockblock warning alert that goes off in the house. Next thing you know, our ardour is fleeing from an onslaught of "I need to go potty, and can I have some water and why don't you have any clothes on, mommy?"
Kids are the ultimate cockblocks. Once you have them, playing grab-ass while loading the dishwasher counts as foreplay. The old school quickie becomes a longie and anything over 10 minutes qualifies as a special occasion.
Have kids and you'll discover it's true what they say: Abstinence really does make the parts grow harder.
I mean fonder.
*wink*