(I went out and got really drunk last week and I had one of those hangovers that makes you not drink for seven whole days afterwards. Everyone wanted to know what I did, but this story is too embarrassing to tell about myself. So I went the pseudo-fiction route instead. Enjoy!)
Once upon a time there was a Queen named Cinderella. She had once been a beautiful princess but had long ago traded in her glass slippers for a husband, 2 kids, a house, a cat and a dog. Every night, long after the rest of the royal family was in bed, Cinderella would pour her heart (and angst) out to a sea of anonymous (Hi Mom!) website readers and dream of the days long gone. Such was her life and such she expected her life to continue being.
Then one day, while struggling to cram 12 hours of work into an 8 hour day, Cinderella received an email from her Fairy Godmother. It said:
Dear Cinderella,

It has been too long since you had a night on your own. Here are two tickets to a magical ball in London. No Prince required, bring anyone you like.

Love, Your Fairy Godmother
Poor Cinderella didn't know what to think. She was torn between wanting to jump at the opportunity to dust off her party shoes and dance until the wee hours and wanting to call up the Fairy Godmother and remind her that it was her BippityBoppityBoo that got her into this shit situation in the first place. In the end, never one to look a gift horse in the mouth, Cinderella booked the Prince-turned-King in for babysitting duties, grabbed a friend and focused on rebuilding her alcohol tolerance beyond her one-glass limit. Freedom was in sight and she was not about to squander it.
On the night of the grand event, Cinderella parked the little princesses in front the iPad and quickly pulled on her fanciest gown and silver Prada heels. One dash down the staircase, fourteen stumbles up the potted road and one dart across the street later she arrived at the coach stop and climbed aboard.
The grand ball was everything the Fairy Godmother had promised. Glittering jewels, sparkly disco balls as centerpieces, a band and a comedian MC. In her showstopping, floor-length red dress Cinderella was the belle of the ball.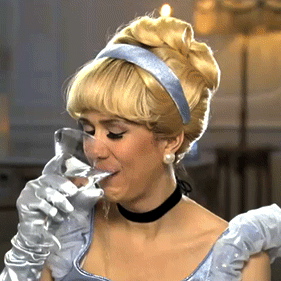 Unfortunately, Cinderella had massively underestimated just how high her wine tolerance needed to be for such an event. Sure, she and the Prince used to tie one on back in the day. But five years and two kids later, Cinderella was more accustomed to 10pm bedtimes than 10 rounds of drinks. Her head knew the limit. Her hands did not. And so round after round, refill after refill, the three hour dinner spiralled down into a sea of splashed drinks and too loud off-colour remarks.
By the time the clock struck midnight and the Fairy Godmother's invitation expired, Cinderella was three sheets to the wind and not looking back. Flush from her win at the monopoly money roulette table, Cinderella let the young Bucks of the ball convince her to stay for another round, play ping pong and dance, dance dance!
And so it was that our lovely heroine found herself left behind by the horse-drawn carriage and obligated to ride in the public bus back home to the castle. Instead of a fur-wrap and a cushion, she bundled herself in her coat and rested her head on the bus toilet sink.
The next morning poor Cinderella was well and truly back to being a pumpkin. She cursed loudly and shook an angry fist in the direction of the Fairy Godmother. She had learned her lesson and promised that she would never, ever be taken in again by that horrid bitch and her magic wand. Next time, dammit, she'd be sure to negotiate a later bedtime and a hotel stay and spa treatment for the morning after.