"Al and I will take the kids to the pool tomorrow. You and T can have the morning off," he says nonchalantly.
It isn't until I am halfway through my peaceful mug of cappuccino that I realize that I've quite obviously missed something. Why has my husband suddenly turned into Mr. Nice Guy?
The answer is the first of some of the marital challenges I've faced and overcome.
The MILF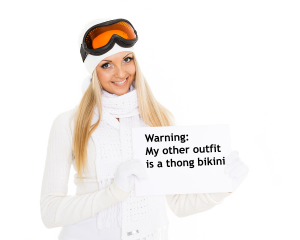 There are two times in a man's life when they lust after MILFs. In their early years, MILFs walk in front of their eyes and into the depths of their deepest shower fantasies. As the boys get older and move off to college, the MILF is replaced by the nubile 20 year old and her perky butt and breasts. It isn't until their favorite funbags fill up with milk and the perky butt is swathed in 4 day old sweatpants that men find again their appreciation for the MILF.
In the midst of our very rainy Slovenian ski vacation, my husband and his friend rediscovered the MILF. I'd complain, but given that the statuesque blond walked in front of them in a thong bikini, I'd probably be more concerned if they hadn't noticed. Let me tell you, once the MILF goggles were on, those men of ours were seeing them everywhere. At the pool, leaning over the restaurant dinner table, posing at the base of the ski slope. Their initial reaction was one of fascination. "These women exist and I want my wife to look like them." However, as the days went on, their fascination turned to frustration. "These women don't do ANYTHING except walk around and pose." By the end of the week they were actively encouraging the kids to lose control on the bunny slopes and wipe out a few of them on their way down.
It may have taken a few days, but my man soon realized that he'd rather have a wife who happily schleps around two kids, cooks his meals, does his laundry, single-handedly manages the midnight risings and does it all in his hand-me-down ski pants…much better than the statuesque butt-thonged blonde.
Marital challenge overcome.
Other Marital Challenges
The laundry – I do all of the laundry. I sort, load, wash, dry, carry up and down the stairs and fold and put away 90% of it. Nomad Papa generally stays out of the way, but a few times he has been dumb enough to open his big mouth. And boy has he regretted it. He recently complained because I shrank a sweater of his. He tried (and failed) to argue that I should pay closer attention to what goes into the washer rather than relying on him to identify any concerning items. "Sure, I'm happy to sort. I'll sort your shit right out of the pile and leave it on the side for you to deal with later." Problem solved.
His butt, or should I say the lack thereof. I married a man that refuses to buy jeans in the US because, and I quote, "they are too fluffy." That man's skinny ass and his olympic athlete metabolism have caused me no end of grief over the years. So much grief, in fact, that I wrote 2300 words about it and published them in I Just Want to Be Alone. If you've ever snuck butter into a recipe in the hopes that it will make your obnoxiously skinny husband put on a pound or two, you will absolutely love my essay.
And there are more, so so many more stories about marital challenges faced and overcome in the book. The terrible dresser. The over-eager dad. The ones with the desperate sex drives.
Here's my tip for having a successful marriage. Go and buy this book. You'll laugh. You'll cry. You'll pee a little. But mostly you'll discover that your relationship challenges are absolutely normal.
Buy your copy of I Just Want to Be Alone now:
Amazon.com

Amazon.co.uk

iTunes
Google Play
Nook
Barnes & Noble paperback