It is T-12 hours and I am outside digging around in the trash can. This might not be how most wives prepare for their husband's return from a business trip, but it works for me. T-12 hours is when I start hiding the evidence of the single lifestyle I've been enjoying while he is gone.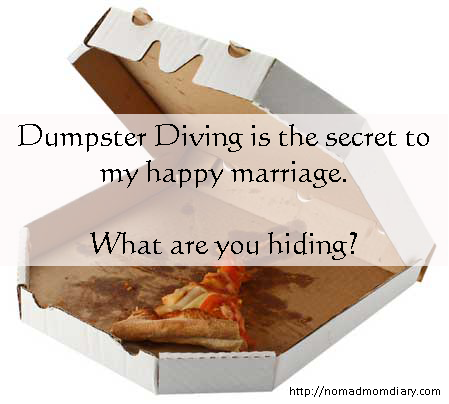 Two hours earlier, I am on skype with a friend. I am trying to tell her about my long, crazy day, but I can barely get a word in between the mouthfuls of pizza I'm cramming down my throat. "Did you chew that last bite? Slow down already, what's the big hurry?" she asks. Duh. It is ticking towards T-12 hours and my window for living on the wild side is quickly closing.
It is the next evening and all is back to normal in our house. Vegetables steam on the stove. Fresh pasta is slurped off of plates. Fruit is the main ingredient in dessert. Papa is back home and all evidence of our poor food choices is sitting at the bottom of the local landfill.
Today I ran a very unscientific office poll to see if anyone else does the same thing. I had no idea that the question was going to spark off 20 minutes of reminiscing over the pieces of toast they'd been caught eating at 11pm. British people, apparently, really like toast. We waxed poetically about saying no to seconds and then sneaking away at midnight for toast with nutella. We bonded over the mortification of being caught fishing the toast out of the opening. "Toast at 11pm? Why don't be silly! I'm just getting a jumpstart on the morning." We all agreed that the absolute worst is when the wine glasses clink together when you are trying to sneak one out of the cabinet at 10pm. DAMN YOU GLASSES!
I learned today that everyone sneaks around. Everyone has some behaviour that they don't want their other half to know about. For many of us, it is the 3 cookies and the glass of wine we guzzle in the dark corner of the kitchen. For others it may be a sister-wife in the house next door or a crossdressing fetish. Whatever works, I say!
These little acts of rebellion play a big role in my happy marriage. They help remind me of who I was before I became a we. They give me a healthy outlet when the vexation of him leaving his dirty socks on my side of the bed AGAIN might otherwise send me looking for a gun or a gallon of poison. They certainly help fill the large gap that his absence creates.
That is why, no matter what anyone else says to me, I will never regret my midnight dumpster dives where I bury the pizza boxes and beer bottles. If that is the worst thing that middle-age marriage throws my way, I think I am doing pretty darn well.