Up until last week the only thing I had to worry about slipping out was a little bit of pee if I jumped up and down too much. Now I have to worry about my intestines.
Apparently I've been trying to suck in a hernia.
When you discover that your body is falling apart at the seams, you have two options: you either go and rock your crying, broken body in the corner or you celebrate the gift that the humor gods have bestowed upon you. I think we can all guess where this is going to go….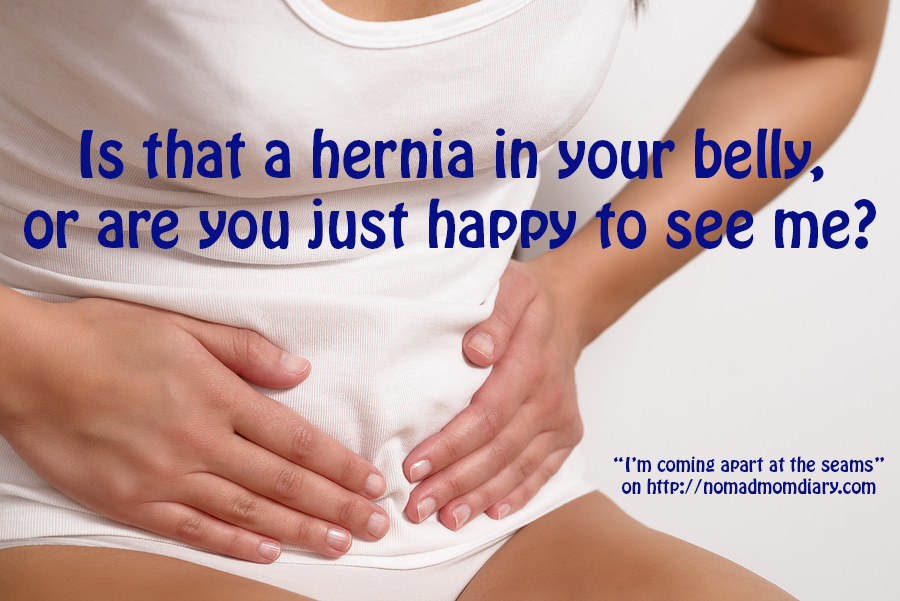 7 Best Things about Having a Hernia
When your husband wants a little quality time in the bedroom, he can snuggle up to you and say, "Is that a hernia in your belly or are you just happy to see me?". On the downside, when it actually is an intestine it's a bit hard to find that loving feeling…
Everyone in your office will be convinced that you are pregnant because you are slightly nauseous, constantly holding your stomach and refuse to pick up anything heavy. Therefore, in order to save that promotion you know they'll withhold if they think a maternity leave is imminent, you will have to start drinking on the job. "That's not a baby kicking, that's the slice of pizza I had for lunch making it's way on down."
You can out-trash the trashiest of Walmart shoppers by stopping to shove your intestines back in after maneuvering that heavy case of beer into your cart. #truestory
For the first time in ages, when you go to the hospital, it will be so that someone can put something INTO your tummy rather than taking something out.
Unlike childbirth, you can schedule your "live tweets" of the surgery in advance because they'll all say "Zzzzzzzz"….
Drugs, drugs and more drugs because no one expects you to have a "natural" abdominal surgery.
And last, but certainly not least, the best thing about having a hernia is that it is the ultimate, relatively painless "get out of jail free" card. It sounds terrible, no one has any idea how much it actually hurts and there isn't a person on this planet that wants to be responsible for your insides spilling out across the floor. So should that 7 week hospital wait list stretch out to 10 or 15, you won't hear me complaining.
Turns out that falling apart at the seams might just be the best vacation I've ever had.