A few weeks ago I told you guys about my amazing friend who has cancer. I've decided to continue my funny support by doing a weekly (ok, fine, mostly weekly) Friday Funnies for Cancer. I'll share some of the funniest things I've seen on the interwebs during the week before, feature some special guests with their suggestions and, MOST IMPORTANTLY, share the link to a great cancer charity in case you want to offer some support. So here they are….
FRIDAY FUNNIES FOR CANCER – 1st EDITION
1. The Stripper in the Old Folks Home
I'm in New Jersey this week where I am finally getting caught up on the latest craziness in the US. This particular story had both me and my cancer-fighting friend guffawing into our pillows…have you heard about the NY retirement home whose residents hired a male stripper to come in? I'd like to be perfectly clear here in case my kids ever decide to put me into a home: I WANT TO GO TO THIS HOME! And I'd like my friend to be there along with me. She'll book the stripper, I'll bring the dollar bills.
2. Friends With a Real Housewife
When I read that one of my blogger buddies had an interview for a spot on the Real Housewives of Beverly Hills, I was torn between desperately wanting her to get it so that I could know someone famous and desperately hoping she didn't because srlsy! who wants to say that the famous person they know is a Real Housewife? You'll have to read her post to find out how it ended up.
3. HipHop in Da House
No literally, hiphop in my house. Nothing makes my friend laugh harder than watching me make a complete idiot of myself. Mama Bear, you are welcome! Here's a short video of me getting my groove on to the only soundtrack I ever get to hear.
4. Reading Makes You Smarter
Well, not this kind. Lately I've been reading books that make me laugh my butt off. And let me tell you, having to explain to my husband why I'm lol'ing on the john has led to some awkward conversations. (Look on the bright side, honey, I could be laughing while you're changing clothes…) Here are a few things I've been reading: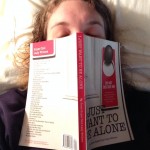 I Just Want to Be Alone : I got an advance copy of the book a month ago, but I wanted to wait until I got my hands on the real, final, official thing before I dived in. I finished it this week and gained the unexpected benefit of tighter ab muscles from holding in the lols during the late night readings. There's a story in there about a husband that is constantly in the toilet and features a poop contract that will very soon be presented to my husband…Just gotta get my hands on a pdf of that baby.
Hair of the Corn Dog (The Tales of Imperfection Series): AK Turner weaves tales of her everyday life in this side-splitting book. I felt like I was right there with her for all of the awesome bits without having to suffer through the more mundane aspects. It is a great story about a life that could very well be your own. Go buy it RIGHT NOW!
A whole bunch of funny women: Kyla from Mommy's Weird put together this short video sharing her favorite women comedy writers. I found a few new ones, why not give it a watch and see who's new to you?

That's it for me. If any of this made you laugh and/or if you'd like to support a good cause, why not make a donation to the Lung Cancer Canada or the American Lung Cancer Society?