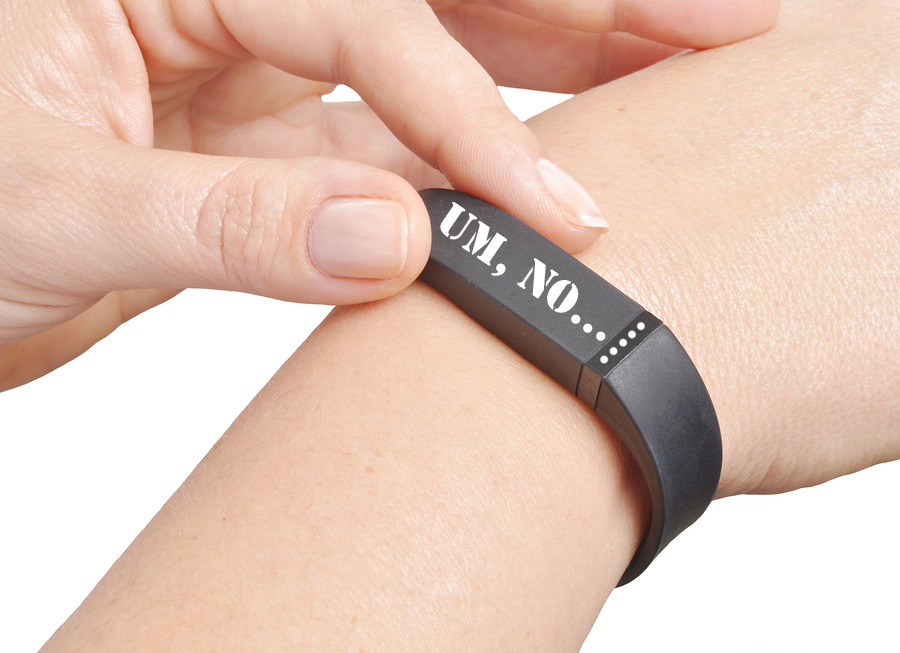 In our twenties, when our fat pants got tight we'd just walk around the block a couple of times and not eat bread for a week. Not so nowadays. One of the great indignities of middle age is realizing that you are no longer capable of managing your weight without supervision. It doesn't matter what we do, if we aren't logging it in some little Big Brother-esque electronic device, it won't work. That's why everyone I know now has a FitBit. We're tracking steps and calories, deep cleansing breaths, pee runs, moon phases and menstrual cycles, all in the hopes of avoiding having to purchase a whole new fat wardrobe.
That poor device has a big task. It has to ride our asses constantly and keep up a positive attitude while doing so. I was starting to feel bad for mine until I discovered what it was really thinking:
Ten Things Your FitBit Wants To Tell You
Rome wasn't built in a day but that inch on your waistline was. I've got a GPS on here, so don't think you're fooling anyone. Trips to the snack cupboard don't count as exercise.
2000 steps? Really?!?1 It's 8pm! The Statue of Liberty got more exercise than you have today. Have you seen her bicep?
You are not seriously going to try and count that Venti Starbuck's Caramel Apple Cider as a serving of fruit.
No, you cannot enter a "glass of red wine" as the day's workout.
Are you trying to suck it in during your weekly weigh-in? Do you not understand how a scale works?
When fur starts choking up my wristband, it becomes really obvious you've hooked me to the dog's collar, m'kay?
What is that smell? OMG, did you put me on the baby? Is that poop? Get it off! GET IT OFF!
Your husband lost five pounds last week just be switching to diet coke. #justsayin
Holy cow! You're still alive?!?! It's been so long since you last wore me that I thought you'd died.
Congratulations! You lost .000015lbs this week. Well done!