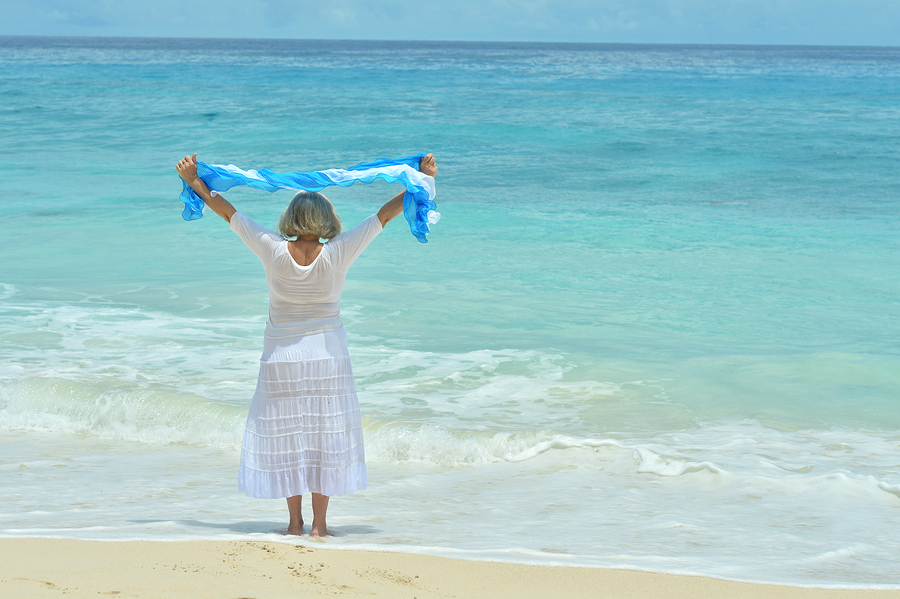 Growing up in the Deep American South, I was encouraged to do a lot of things, but running off to California was not one of them. Nor was marrying a damn foreigner, moving to some god-forsaken country or not bringing those grandbabies around more often. I suspect my poor parents look at each other from time to time and wonder where they went wrong and how their oldest child could go so far astray from the clear guidelines they set. The truth is that they needn't look any further than the crazy old lady they sometimes left in charge, my Great Aunt Adelle, the 86 year old adventurer.
My Great Aunt Adelle (pronounced Aay-Dayell) was my grandmother Odelle's (Oh-dayell) twin sister. Adelle was the spinster Aunt, perfectly content to love the men in our lives as long as we took them back home with us after dinner. Her daily diet of lard, salt and syrup defied all medical odds and somehow kept her clock ticking and joints moving well into her 90's.
The summer before my senior year of high school, after much wailing, screaming and gnashing of teeth, my parents very begrudgingly gave me permission to halfway drop out of high school. I'd spend half of my day trudging along the high school corridors and the other half skipping around the nearby college's campus. With no major, no advisor, no entrance criteria and no high school degree, I was free to take pretty much any entry level course that I wanted. And the absolute best part was the lunch spot that sat halfway in between: Aunt Adelle's house.
Well into her 80's, Aunt Adelle had long since mastered my three favorite dishes: velveeta shells and cheese, sloppy joes and chicken and dumplings. This limited rotation may not have met with Julia Child's approval, but it certainly met with my own and was light years better than the mustard sandwiches my father normally prepared us. Over buttered biscuits, green beans with bacon bits, creamed corn and the dish of the day, Adelle would happily tell me story after story, each more improbable and outlandish than the one before and each holding a core truth that can only be found in the deep South.
"When Oh-dayell and I were young, Elvis's daddy lived on our farm."
She tosses out this sentence and passes me a glass of water as I choke on my biscuit bite.
"Do you mean Elvis, Elvis?" I ask once I can breathe again.
"Yes, his daddy was a sharecropper on my grandaddy's farm. They didn't have a lick a money and that Elvis wasn't born yet. I didn't know him. This was a long time ago."
She doesn't tell the story to make some claim to fame. She tells it to illustrate our family roots. You can sit her down with a total stranger for 20 minutes and by the time you get back she'll be introducing you to your third cousin once removed…even if you have no idea where that relationship sits on the family tree. When you move off and get married to some boy your parents haven't known from birth, you aren't running away. You're merely adding more rows to the family blanket. The threads are always there for anyone who is willing to look for them. Everyone is interconnected, even the man sleeping at Graceland.
"This is my good friend Esther. She's Jewish. But it's okay because she's a good Christian lady."
When we moved from Mississippi to Arizona, Great Aunt Adelle packed her crocheted toilet roll covers in her suitcase and followed right along. At the age of 86, she didn't hesitate before setting off on a great adventure. Truth be told, at the age of 86, I'm not sure that she even understood that she was going on an adventure.
Despite being several thousand miles away from a decent glass of iced tea, Aunt Adelle quickly settled into her new life and new neighborhood. That woman could talk the paint off the wall, so no one was surprised when she quickly buddied up with the other old biddies in the apartment complex. Her best friend was a lovely widow named Esther. Esther was a caricature of every old Jewish woman you've ever seen. Five foot nothing, bristled gray hair, New York accent, penny-pinching grumpy old lady. She'd never met a Southerner. Adelle had never met a Jew. They didn't let that stop them.
Adelle and Esther learned to ride the bus. They'd ride to the doctor's office. They'd ride to the grocery store. Adelle would buy bisquick. Esther would buy matzo balls, but only if she had a coupon. They ran up and down the roads of Phoenix without ever getting lost. The same couldn't be said for the shopping mall next to their house. Heaven forbid that those ladies got turned around and exited through the wrong door. They once spent two hours wandering the 100+ degree, egg-frying asphalted parking lot because they went out of Macy's instead of Sears. To this day, I have no idea how Security didn't catch them.
Every night Aunt Adelle would call the house and recount her daily adventures. And every night we'd hear the same line, "I went with Esther, you know, she's Jewish. But it's okay because she's a good Christian lady."
Isn't that what adventuring is all about? Setting off into the unknown with a stranger, finding those common elements and explaining away the differences in terms your family can understand. Discovering the world that is a bus, boat and plane ride away, often times at the expense of learning what's right next door.
"Lynn's my favorite."
Not surprisingly, this was my favorite thing that Aunt Adelle would say. And say it she did, at least once a week until the day she died. Lynn's my favorite. It caused my father to shake his head in chagrin. It caused my mother's blood to boil, after all she was the one taking care of her. It caused my sister 50% frustration and 50% relief because she could use that as the excuse for getting out of any unwanted tasks. "Lynn's her favorite, let her do it."
There is something incredibly profound about getting old enough and comfortable enough to let people know where they stand. You make me happy. You show you care. I care about you too. You are my favorite.
Adelle died six years ago. Sometimes I dream that she's still alive. I find myself seated at her little kitchen table, a plate of biscuits dripping with butter and honey placed right in front of me. As we dig into our velveeta drenched seashells, I tell her all about my life. "I have a daughter," I say, "and I named her after you." She smiles at me and says, "That's great. You know you're still my favorite." We carry our plates into the kitchen and then settle into the couch just as Wheel of Fortune comes onto the screen.
I wake up in the morning with a smile on my face. All those years of sitting with the family, I was listening. I listened for thirty years to a tale 90+ years in the making. It's about love and loss. Friends made and left behind. But mostly, it's a story about following along wherever the road of life takes you, clutching onto the string that ties you back to your roots, making sense of the strange any way you can and always being honest about where you stand. That's the story of my Great Aunt Adelle, the 86 year old adventurer.