It's Friday and that can only mean one thing: it's time for another Friday Funnies for Cancer. As a special treat today, I've decided to introduce all of you to Madeleine. Madeleine is one of the heroines of my new book….are you intrigued? All I can tell you right now is that it is chick lit and is set right here in Ye Olde Oxford. Madeleine had a recent adventure while out buying some new bras…read on to find out what happened:
The Bra Fitting: A Mansion House short story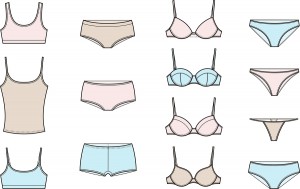 "Dooooo yooouuurrr boobs hang low…" Madeleine makes a mental note to keep a closer eye on the kids' tv choices as she hears her four year old singing in her room. She barrels out of her doorway and skids to a stop in front of her.
"Look! Mommy's boobs hang low!" she squeals in enthusiasm before skedaddling off again. As Madeleine peers down at the deflated mammaries heaving under her oldest t-shirt, she changes her mental note to "eliminate the tv all together" and then adds a postscript: Buy New Bras.
Madeleine lies awake in bed that night, her mind filled with thoughts of her overflowing bra cups. After five years of living day in and day out in her Costco special bras, they've become like a second skin. Regardless of how they started, they are now all a dingy grey that perfectly coordinates with her dingy cotton briefs. Will buying new bras inevitably lead to new underwear? She squeezes her eyes shut against the horrific images of lacy underthings riding up into her nether regions. "One step at a time," she tells herself and then slips into a fitful sleep.
The bright sun sears into her brain much too early. "We need new curtains," she says to her still sleeping spouse. If she's awake, he should be too. She hustles everyone through breakfast and right out the door to the park. "Mommy's off to buy curtains!" she yells as she sprints in the opposite direction. She daren't confess the real purpose of her expedition for fear of chickening out or failing all together. She won't be able to face her husband again if he falls on his knees and thanks god that she's finally trading in the sex-killing secret weapons. "Nice new curtains," she yells and dashes off to the bus.
Downtown she can hardly muster the courage to go into the department store. Even the sale sign's siren song is no match for the trepidation in her step. She chastises herself as she waits at the crosswalk. "It's just a bra! Find your backbone, woman!"
Courage mustered, she marches herself in the front door, past the sea of make-up counters and perfume displays, up two sets of escalators until her destination stares her in the face.
LINGERIE
In her mind's eye, the cute polka dot sign above the department takes on the appearance of bullet wounds and the whole thing drips blood.
"Courage now, courage." she slides off the escalator and subtly slips between the lace-filled racks. She's immediately overwhelmed with choices. "The T-shirt Bra" "The Balconette" "Take the Plunge" "Ultimate Cleavage". It's all too much.
She backs away slowly, making no sudden moves and trips over a clerk restocking the shelves. "You look like you need help," she says. "Oh boy, do I ever," Madeleine mutters, eying the exit. "Excuse me?" she asks. "Oh nothing, but yes, yes I do need help. I have NO idea what I'm doing," Madeleine answers.
"Shall we start with the size then," her question trails off as she sees the panic in Madeleine's face. "Sizing, sizing that is. Yes, I can see you'll need to speak with one of our bra fitters. Right this way."
The clerk takes her by the arm, eliminating any further chances to escape and guides her to the fitting rooms. "My colleague will help you," she says as she walks away.
"That's so nice of you. Thay….nks?" her gratitude turns questioning as she gets a look at the new arrival. Six feet tall, dark hair pulled into a bun, red lipstick. Her uniform of a close-fit button down and pencil skirt just one bustier and a whip away from dominatrix.
"You want bra fitting, no? This way."
Madeleine's insides turn to jelly at the sound of her Russian accent. She feels as though she's fallen into the middle of a James Bond film without the benefit of a martini, shaken or stirred.
"You take dress off and wait here," she commands and with the flick of her wrist she closes the curtain and leaves her alone.
"Why did I wear a dress," she asks herself for the 100th time as she waits her execution. Oops, fitting. She catches a glimpse of her pasty thighs in the 270 degree mirror. The air conditioner powers on and goosebumps pop up along her bare arms and legs. Her breath hitches as she imagines those cold hard hands pulling the measuring tape tight across her chest and then falling to her knees in submission as she begs to know the answer to the size dilemma.
Just as she reaches for her dress, the curtain rustles open to reveal a kindly round and wrinkled face. "Oh hello deary! Let's get you fitted for a bra, shall we?" Her lilting English accent warms Madeleine's arms and legs like a cup of milky tea. "Oh yes," she sighs and mentally thank whomever up there is looking out for her.
"Don't look so glum, deary. You're a nice 36. A very common size. You'll have no trouble finding something lovely. Now let's see, are you a C or a D cup?"
The helpful clerk eyeballs her chest in indecision. "Shall we just have a look at the tab in your current bra?" she asks. Madeleine flashes back to the bare white tag, lettering long ago faded away in the wash. "That's all right, I can figure that part out. I just needed to know where to start," she answers.
"Pop your dress back on then and we'll see you here when you've found a few things to try," she says and then leaves Madeleine alone to recompose herself.
Madeleine sets off into the crowded aisles again with more confidence. She blows past the sheer bits and skips over the ones that are 99% lace and 100% itchy and uncomfortable. The rack of t-shirt bras beckon her in their direction.
She beelines for the two-for-one packs and settles on a nice set of one nude and one black. She's hoping that the high contrast in colors will postpone the inevitable slide towards the common dishwater grey where they all eventually end up. She spots the 36D first. She untangles the straps, freeing it from the chaotic rack and then stares in horror at the giant swath of fabric in her hands. Her boobs cannot possibly be that big. She shoves it back in and hunts around for the C.
"Oh yes, come to mama!" she coos to the lovely little two pack as she pries it from its clingy pals. She decides that her boobs will fit in there, whether they like it or not and cuddles the two-pack to her chest as she waltzes over to the sales counter.
Back at home, she sneaks upstairs before everyone else returns from the park and slips into her new skin. She turns a blind eye to the armpit fat and the slight spillage where her cups are running over. With her t-shirt back over her head, all of the flaws are hidden. Madeleine turns to the side and casts a critical eye over her silhouette. Wait, is it possible that for the first time in years, her breasts are actually sticking out more than her belly?
She struts back down the stairs cat-walk style and does a pirouette as her husband comes in the front door.
"Holy hot mama! Come to daddy," he catcalls and then follows it up with a whistle.
As he pulls her into an embrace, he asks, "What's that song you're humming?"
"Oh nothing," she answer and snuggle into his neck.
"Dooooo yoooouuuurrrr boobs hang low, do they wobble to and fro, can you tie them in a knot, can you tie them in a bow, can you throw them over your shoulder like a continental soldier? Do your boobs hang low?"
Not any more, she thinks to herself. Not any more.
That's it for me. If any of this made you laugh and/or if you'd like to support a good cause, why not make a donation to the Lung Cancer Canada or the American Lung Cancer Society? And don't forget, you can buy a copy of the latest book featuring me right now: I Just Want to Be Alone.