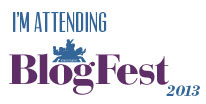 This weekend I attended the Mumsnet Blogfest in London. It was my first blogger conference and I was all geared up for a love-in where we would celebrate the collective strength of the mommy voice and learn how to make it stronger.
I got some of that but only because I was so desperately trying to get it. It turns out that the term "mummy blogger" is almost derogatory. My thought on that is "What the what?!?!?!"
Where I come from (the US for those of you who don't know), mommy bloggers are a powerhouse. We drive social change, holding politicians, brands and individuals accountable for their words and their actions. We raise money for charity, we support one another through hard times, we write bestselling books, go on Oprah and the Today Show. We are absolutely 100% not shrinking violets. We are loud, proud and respected.
I walked away from Saturday asking myself why our British equivalent, the "mummy bloggers", have such a hard time embracing their moniker.
Maybe what we need here in the UK is more transparency about our collective reach. Maybe if more of us would stand up and say "This is my reach. These are the changes I have driven. These are MY accomplishments", maybe then we'd feel more pride about being a part of the mummy bloggers instead of trying to distance ourselves from them.
In my mind there is no doubt that we MUST do this. If we band together, brands and PR firms will have no choice but to pay us rates that equal our worth. Politicians will have no choice but to listen to our voice. Trolls will have no choice but to hide away in the shadows. And perhaps most importantly, WE will have no choice but to take pride in our online alter-egos.
I'd like to invite all of my fellow mummy bloggers (regardless of whether you embrace the term or not), to stand up and proclaim your achievements. I'm not going to put forth a template of what achievement looks like for a mummy blogger – our goals and successes are as unique as our personalities.
If you'd like to participate, please tag your blogpost and social media shares with #mumsroar. Let's remind everyone, ourselves included, just how powerful we all are.
My #MumsRoar Accomplishments:
In the past year, 7700+ unique individuals have visited my blog. (If you added up all of the people I've met in my life and doubled that number, it still wouldn't equal that.) I've joined ParentDish Canada as a Contributor and BLUNTmoms as a Global Community Manager, both giving me the chance to reach thousands more people. THOUSANDS. I've been paid for my writing. PAID! And I have met some of the most amazing women that I will probably ever encounter. Women who write the news, women who make the news, women who are the news. And the best part for me is that there is still much, much more to come.
What are your #mumsroar accomplishments?