I took my kids to the zoo today and came home to find the interweb exploding with advice for Miley Cyrus after her performance at the 2013 VMA's. People seem to be shocked by her behavior and saddened by her performance and how poorly it reflects on her. What no one is admitting is that this behavior is completely expected and the direct product of our society AND…. OUR FAULT!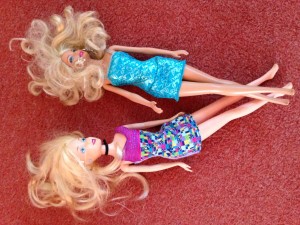 Don't believe me, just waltz (or twerk) your way on over to the toy department at Target. Everything from Barbie to Bratz to My Little Pony to Merida from Brave is a sexed up, over the top, caricature of a $5 gas station whore. Every last one of them. And we buy them.
This generation of girls is being raised to think that the end of adolescence can only be signaled by baring their butt and boobs to any and all. The two extremes – purity-ring wearing virgin or hypersexualized woman – leave no room for what really exists: normal individuals who are learning to accept themselves, their bodies and their desires.
We tell them that it is fine, in fact hardly even eye-raising for Lady Gaga to dress as Venus on the halfshell at the VMA's but completely unacceptable and a sign of her certain failure for Miley Cyrus to do the same. And we expect them to take this information and turn it into something that makes sense – heck I can't even do that and I'm a grown-up.
As a mother of two little girls, I can safely say that I don't want my kids following any part of Cyrus's path. I don't want them to feel obligated to make bold statements about their plan to "wait until marriage" before they go on their first date. I don't want them to date or marry their fathers or wear purity rings. I don't want them to feel so stifled by life that they have to go to the opposite extreme to prove to me that they are no longer children.
If we don't want our children to end up like Miley (or Gaga or Madonna or Britney or Christina or insert any other female pop star name here), we need to let them know that desire, sex and relationships are normal. Being with another person (be that male or female) can make them feel good and/or bad and that feeling should be entirely based on their relationship with the other individual. It shouldn't be based on what they think that I or anyone else think.
I'd like to apologize to Miley. I'm sorry that we parents let Hollywood, society, toy companies and Disney dictate your life. I'm sorry we let them put you into a craptastic box. I'm sorry we let so many others come before you and blaze a trail of butt-baring VMA performances so that you HAD to go down that path to be a grown-up star. I'm sorry we let this happen and I'm sorry we are now crapping all over you.
I'm sorry and I will try and do better in the future. Anyone else want to join me in this?