We've all been there. We're standing at the bottom of the playground slide. A line of kids ten deep is stacked up at the top. And blocking up the whole process sits a sobbing, snotty, mess of a toddler: ours.
It seems like most of the so-called parenting experts nowadays are telling us to intercede in these instances, to either climb up and allow our child to slide down in our arms or to gently guide them back down the steps to the bottom. Goodness knows, I've chosen that easier path many, many times in my life.
It dawned on me one day that each time I mollycoddle my child, I am teaching her a terrible lesson. Instead of encouraging her to tackle challenges that are well within her capabilities, I communicate to her that she's just not ready to go it alone. Well, not any more.
I've come up with a list of five reasons why we should shove our kids down the slide of life. Five reasons that show how each small push lays a foundation for a strong and independent personality and a fulfilled life.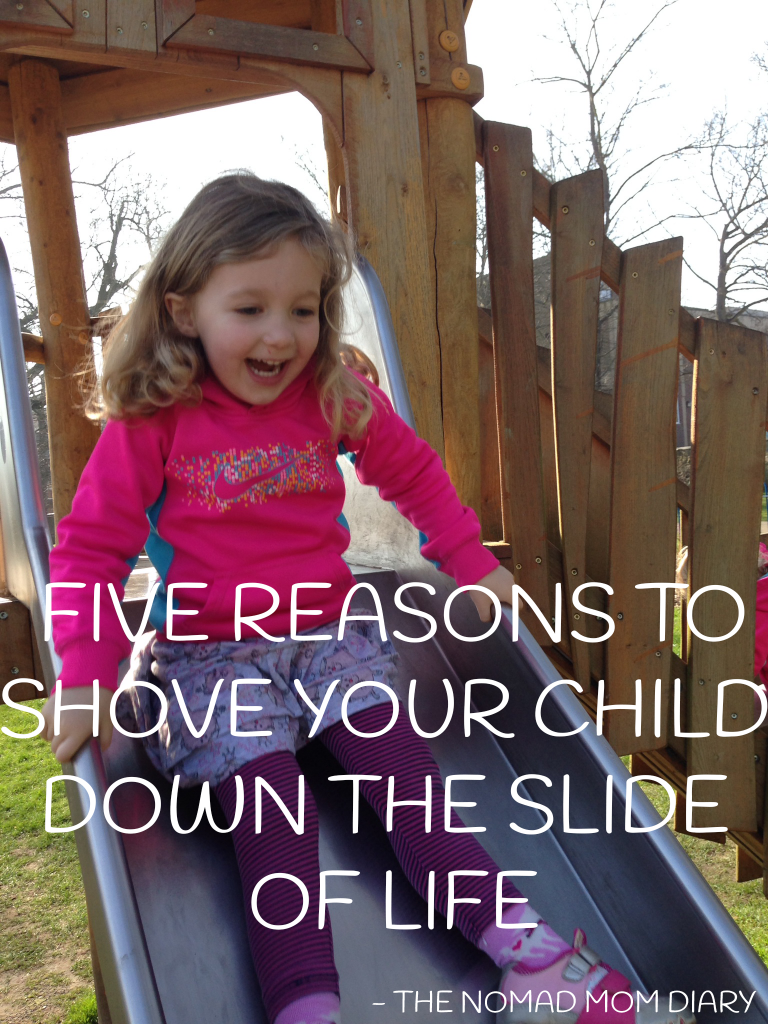 1. We need to teach them that actions have consequences. If they choose to climb the stairs up the slide (or sign up for a class or disobey us or whatever their action might be), they need to be willing to accept that going down is what comes next. Sitting there sobbing, inactive, is not an option. They started it and now they need to finish it.
2. Seeing the task through to the end is the right thing to do. It might seem scary, but often times doing the right thing is scary. We need to teach them that, just like the slide, once you get past the initial fear, doing the right thing fills you with exhilaration. It brings a smile to your face and warms your heart.
3. We need to encourage them to take appropriate risks. When we give in to their fears although we know perfectly well that nothing will happen to them, we are conveying to them the exact opposite. We're saying, "Your fear is justified. You could get hurt and so you should not do this." What we don't realize is that as we carry them away, they are looking back over our shoulders at their peers who are carrying on hurdling down the slide. We're teaching them that they are different, lesser. What a horrible, horrible thought.
4. We teach them to look at the others around them and take their feelings into account. The ten kids behind ours didn't climb to the top because they wanted to enjoy the view. When we waste time cajoling and pleading, promising it will be fine, we are asking everyone around us to put their lives on hold. We are creating an imbalance that the children will note and later use against the very person we are trying to protect. "You're a baby. You can't go down the slide. You need your mommy to come and help you." These statements have a core truth that we instilled.
5. We need to encourage them to find their hidden strength, that fire within that will sustain them through years of challenging school work, peer pressure, and the ups and downs of friendships. We should walk up and say, "I know you can do this. You are strong enough and brave enough. I'm going to give you a little shove to get you on your way, but you are going to take it from there and see yourself down to the bottom. And when you get there, I'll be right beside you to give you a big hug." Then we can reach up and with no further discussion, push them on their way to the bottom.
Last week we went to a new park. My three year old struggled her way up a ladder and then peered down at me from the top of the tall slide. "Mommy, I'm scared," she said. I reached up a hand and said, "I know, honey. But you can do it. You climbed that huge ladder all by yourself. You are such a big girl. And now you're gonna come down this slide and I'll catch you at the bottom."
Her bottom lip trembled and she nervously eyed the ladder over her shoulder. I called her name and then gently wrapped an arm around her back and gave her a push to get her on her way. The split second of wide-eyed fear was immediately replaced by the open-mouthed exuberance of pure joy. She was barely back on her feet before she said, "I go again, mommy!" and off she went.
We played on that slide for 15 minutes. Her confidence grew with each run, first landing on her own, then hands in the air. By the end she was throttling down the thing head first. On our last round, another little girl sat up at the top. Slightly smaller than my child, she was frozen with fear as she looked down from seemingly enormous heights. My daughter came up behind her and said, "Don't be scared. It's really fun. I've been lots of times. We can go together." The little girl's eyes brightened up as she scooted over to make a place for my child. They held hands, my daughter tugging her along as she rushed off ahead.
To most of the other parents at the playground, I'm sure it seemed like a cute little scene. For me, it was the greatest reward I've ever received, seeing firsthand the power a simple push can have to change the life of my child and everyone she encounters.
Do me a favor, give your child a shove down the slide of life sometimes. One push, duplicated by thousands and thousands, can make this world a better place.