I don't want to brag or anything…
Ok, now that we have that statement out of the way, I am totally gonna brag. My four year old is learning to read and she LOVES it. Before you guys knock yourselves over trying to pat me on the back, you should know that I pretty much have nothing to do with this. Here in the UK, they teach four year olds to read. If the kids like it, they teach them more. If the kids want to run around on the playground and hit each other with sticks, they let them do that instead. My kid just happens to prefer books to sticks. And I could not possibly be more thrilled.
You see, I am a book worm. I switched over to the kindle when we moved abroad and I am pretty sure that some exec at Amazon is driving a BMW that I single-handedly financed. I've been dreaming of the day when my little ones would discover the magic of books and lose themselves into the dream world painted by an adjective and verb inspired imagination. Watching my four year old sound out the letters and seeing her face light up as she combines them into words is a dream come true.
One of the things I am most looking forward to in the future is comparing notes. I want them to read the books of my youth, the classics that caught my attention, the angsty teen books and even the wildly romanticized stories of falling in love. And then I want to sit down and talk all of it through. I want to know their thoughts, what they loved, what they hated, what made their hearts soar and the tears fall.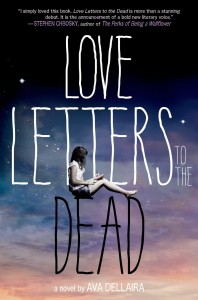 I read a great book recently that I just know will be on that list. It's called Love Letters to the Dead and is by Ava Dellaira. As a child of the 80's and 90's, I loved that the main characters wrote letters to names that carried real meaning to me. I can absolutely envision us lying on the couch and me telling her stories about Kurt Cobain, Heath Ledger, Any Winehouse and even Amelia Earheart. We'll talk about what's going on in their life, which stories within the letters they can identify with and which ones they can't.
If you're looking for a good book, I happily recommend it!
If you're looking for lots of good books, why not enter our fab book bonanza giveaway?
(I received an advance copy of Love Letters to the Dead so that I could read and write a review. I did not receive any other compensation. All opinions are honest and my own.)