After the wild success of this week's post about my lack of a sex life, writing about the reasons why I won't be having an affair seemed like the next logical step. So here they are, the 5 reasons I won't have an affair. And P.S. they are probably not the ones you are expecting.
More Papas = More Kids
The number one reason why I won't be doing the nasty with someone other than Nomad Papa is that most other men I know are also papas….and where there are papas, there are more kids. And I sure as hell don't want any more kids. Take one of the playgroup dads for example. There was a man who came to our group with his two kids and I sometimes wondered what his wife thought of her husband hanging out with a gaggle of women. Probably nothing, because he could not have been safer. Watching our combined 4 kids under the age of 5 play together was more effective than any cold shower. Well that, and watching all of us women compare the length of our leg hairs. Yeah, she had nothing to worry about.
Not a Papa = Is a Kid
The non-papa men are even worse. All the non-papas in my office are 25 and under. What the hell am I going to do with a 25 year old? Do you remember dating 25 year olds? They'd expect me to meet them out at clubs and wear mini-skirts and say things like "I'm sooooo drunk…I don't think I can make it home alone" as a pick-up line. The only people I want to say "I'm sooooo drunk" to are my group of girlfriends who will make sure to bring extra munchies to playgroup the next day.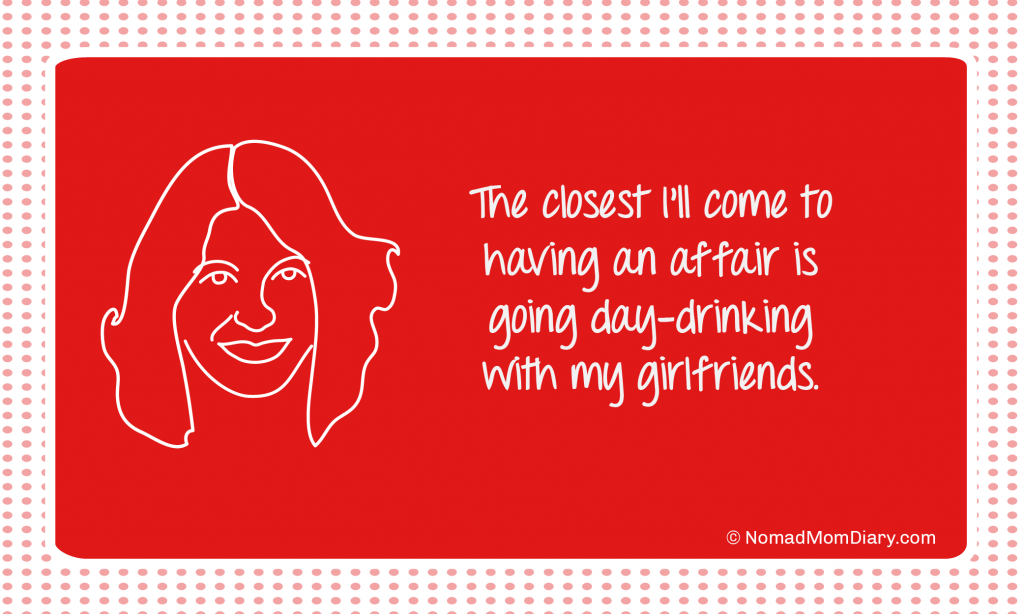 Sit-ups
We can admit it. Carrying around a man's child for 9 months, having him watch your body stretch to gargantuan proportions and then sit by your side for HOURS while you labor, earns you a certain amount of leeway in the post-baby belly department. And by leeway, I mean enough space to drive in an 18-wheeler. Should he ever be stupid enough to suggest that maybe you should Maria Kang it up a bit in tummy town, you are well within your rights as a mother to make him relive those endless hours of labor pains. Not so when you hook up with a new man. I am going to have to get pretty darn desperate to make me want to drag my tired ass over to the gym and put in the hours needed to fix my diastasis recti.
I'm Tired
In case you missed my Not Tonight, Honey post, let me sum it up for you. I'm tired. Tired of people bugging me. Tired of getting up and going. Just thinking about all of the clandestine activities an affair would require is making me tired. I gotta go and take a nap.
Nomad Papa
As much as I bitch about him, I guess I'll keep old Nomad Papa around. I've got him about as trained as I'll probably ever get a man and it'd be waaayyyy too much work to have to start all over again. I guess that old saying is true – the devil you know is better than the devil you don't know.
So there they are – the top 5 reasons why Nomad Papa is stuck with me for a long time to come. Love you, honey!