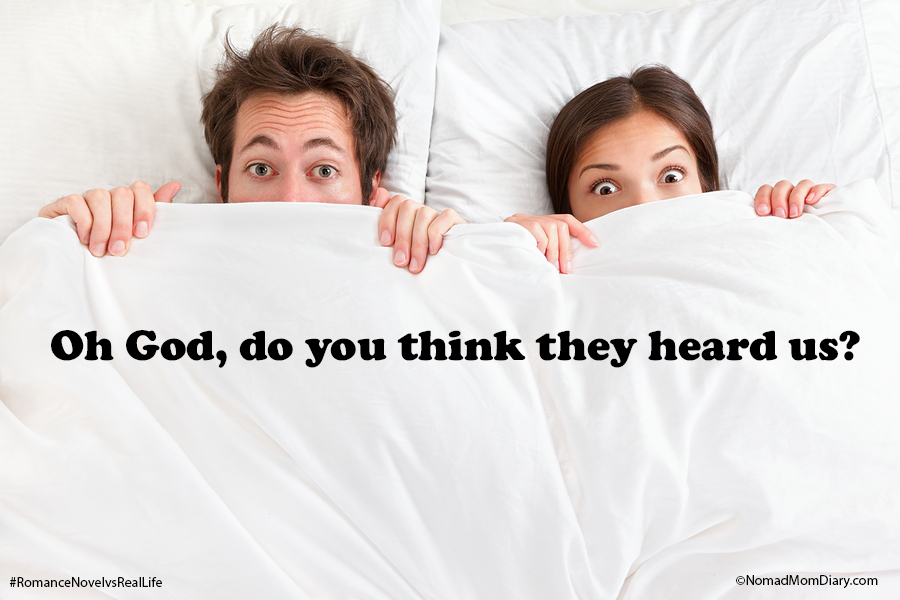 (This is a Nomad Mom short fiction story)
"Hi honey, I'm home!" Bill strides through the front door and immediately trips over the tricycle that is sitting behind it. "Dammit, Suzy, what has daddy told you about leaving your toys around the house," he asks as he massages a knot on his leg. "Sorry daddy, I clean up. I big helper!" Little Suzy runs off down the hallways, pigtails flying behind her. She does not pick up the tricycle.
Bill sidles past the offending object and follows the smell of fresh pasta into the kitchen where he finds his lovely wife bent over the oven. He thinks to himself, "I'd like to get a piece of that," and then realizes that he's seen those sheer lululemon pants before. Actually several times before…yesterday, the day before and at least once over the weekend. His throbbing manhood shrinks back down to its normal size.
Valerie turns around, cursing a blue streak and sucking on the finger she's just burned on the stove. Bill tries to imagine something else in her mouth, but can't look past the pureed peas in her hair. "Thank goodness you're finally home! Suzy has been an absolute terror today! I could not get her down for a nap and now she is overtired and bitching about everything!" Valerie pulls her hair in frustration and then begins absentmindedly picking out the peas.
"Yes, I noticed," answers Bill, "I just fell over that damn tricycle again while coming in the door."
"Oh no, did you hurt yourself? Let me see." Valerie goes straight into nurture-mode and offers to kiss the boo-boo.
"Oh baby, I've got something you can kiss," Bill coos. "Oh really, want to show it to mommy?" Valerie purrs back.
"Mommy, mommy, I hurt myself too. Kiss my ouchie." Valerie and Bill jump in surprise, so caught up in their flirtation that they missed little Suzy coming back into the room. Bill heads upstairs in frustration while Valerie is secretly relieved. She's wearing a sports bra and the only cleavage she has is sitting in her armpit. She makes a mental note to slip into something more sexy at the first opportunity.
Three hours go by in flash, spent dashing back and forth between the dinner table, couch, potty, tv, dvd player, potty, couch, bath and eventually bed. Finally, the two lovebirds close the door to Suzy's room and breath deep sighs of relief.
Bill takes Valerie by the hand and pulls her towards the bedroom. Valerie follows along, discreetly turning off every light switch she passes along the way. "Why are you turning all of the lights off?" Bill asks. "I thought it would be sexier. We can pretend to be strangers," Valerie responds. In reality, she is trying to cover up the fact that she never got around to changing out of her sports bra.
Valerie pushes Bill down onto the bed and strips off her clothing as fast as she can. "Come over here and help me take my clothes off," Bill calls. "We don't have time for that. You know she could wake up at any moment," Valerie snaps.
Chastised, Bills slips off his clothes, nonetheless taking time to fold each item neatly before tossing it onto the nearby dresser. He slides under the covers next to his wife and begins massaging her breasts and kissing her neck.
"Um, baby, that's my waist. Can you move your hands up a little higher? I know my boobs sag, but not that much." Bill suddenly understands why he was having so much trouble locating Valerie's nipples and moves his hands up accordingly.
Valerie runs her own hands down Bill's muscled chest. Her wedding ring snags on his dark chest hair. "Oops, sorry!" She moves one hand lower, gripping his love rod and doing some massaging of her own. "Why don't you come on inside, big boy," she whispers into his ear.
"Really?" He responds excitedly, "I didn't think you were ready yet."
"I'm not, but I know Suzy is going to wake up in a few hours to go potty and I want to get whatever sleep I can," she whispers back again.
Valerie flips over to the top, taking care to make sure Bill doesn't notice her hairy legs. "Oh, yes, yes, I love it when you take control," Bill calls out. "Don't be so loud, you'll wake her up," Valerie shushes.
In complete silence, deep in individual fantasies of what sex used to be like before little Suzy came along, Bill and Valerie find their peaks. Valerie moans quietly, Bill grunts a few times and then collapses. Valerie turns her head to avoid his stinky armpit.
"Was it good for you?" Bill asks. "The best," she answers, "thank god Suzy didn't wake up this time."
(What do you think? Is this a fairly accurate representation of your sex life after you have kids or are you still having crazy monkey sex?)