(Bill and Valerie are back again, this time with a story about their dream vacation. You can find another story about them here.)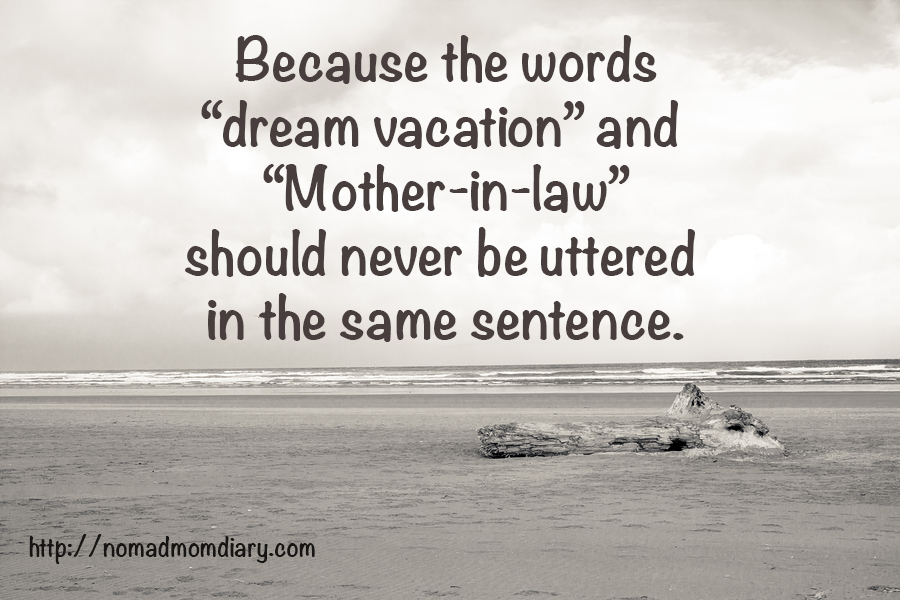 "I've got great news, honey," yelled Bill as he walked through the front door. His excitement was so great that not even tripping over that damned tricycle again was enough to dim it.
"What is it? Did you bring home a babysitter?" asked Valerie from the kitchen, where she was frantically trying to dust the cookie crumbs off of the countertop.
"Even better," said Bill as he strutted into the kitchen and swooped her up in a giant hug. "We're going on vacation. A real vacation!"
Valerie's eyes glazed over as she began imagining the Arc de Triomphe and baguettes on the Eiffel Tower lawn.
"We're going away for a week in Florida. My mother rented a giant condo," clarified Bill.
"That's awfully generous of her," thought Valerie.
"She and my dad are coming along to watch Suzy. Just think…long walks on the beach, late night drinks by the pool," as Bill continued to wax poetically, Valerie was doing the mental math. "Something doesn't quite add up here," she realized, but she stored the thought away and let Bill enjoy his moment.
The night before the trip, the typical chaos ensued. It started when Bill pronounced himself ready before Valerie had even pulled out her suitcase. It took twelve hours of finger-pointing, hair-pulling, name-calling and a near brush with a large metal skillet for the family of three to finally buckle their seatbelts and pull out of the driveway. Suzy spent the entire five hour drive singing "Baa baa black sheep" at the top of her lungs, stopping only long enough to ask for snacks, water, more snacks, POTTY, "are we there yet", snacks, "where are we", snacks and more water. Valerie's anger burned as she spent most of the drive sitting sideways in an effort to keep up with the demands from the back seat. Bill never noticed a thing, so lost was he in his own fantasy land of his dream vacation.
Bill's parents rushed to meet the car before they were fully in the parking space. They showered little Suzy with presents and smothered her with kisses as they carried her away towards the stairs. "We're on the third floor," they called back, leaving Bill and Valerie to struggle with all of the luggage. When they couldn't find the elevator, Valerie's misgivings about the so-called "dream vacation" came back.
Bill's mother couldn't wait to show them around. "Here's our room, and just look at this adorable living room. Now Suzy dear, put down that seashell. Really Valerie, you must keep an eye on her!"
Valerie began seeing black around the edge of her vision.
"Your rooms are just down this hall," said Bill's dad as he led them deeper into the condo.
Two tiny little rooms, each lit by a single skylight and each containing two sets of twin beds. Valerie elbowed Bill and whispered in his ear, "This is all your fault. You cursed us when you packed that extra tube of self-heating lube. With these beds the only position you'll be enjoying is missionary, and by that, I mean praying on your knees that I don't kill you before this week is over."
The rest of the trip passed much as Valerie expected. Bill's parents babysat when they wanted, from roughly 9-9:30am and 9-10pm. What energy the sun didn't burn off, Suzy siphoned away as she made them carry towels and toys, look for seashells, splash in the water and never, ever sit down for more than two minutes at a time.
On the last evening, Valerie's dreams of a final date night were dashed when they trekked in from the pool to find Bill's mother slaving away over a four course meal of all of his childhood favorites.
As usual, Valerie spent most of the evening chasing after Suzy, finally sitting down just as Bill's father refilled glasses for the dessert toast. "Your mother and I have so enjoyed this chance to spend time with all of you. We were going to wait until Christmas to surprise you with the news, but we just can't keep it in," he said.
"Oh no, oh please no," thought Valerie as she chewed her cold steak and pushed around her wilted green salad.
"What is it, Dad?" asked Bill, with a hopeful glint in his eyes.
"Your mother and I bought this condo. We can now spend every summer vacation here all together!"
Three of the adults at the table beamed at one another. Valerie's face turned green, and for once not because of her mother-in-law's cooking.
"It's our….it's our…" she sputtered, trying hard to hold back the screaming going on inside her head. She stared around the table at the gleeful faces and realized that she had no other choice. She refilled her glass, chugged down the wine and pulled up every ounce of courage she could find.
"It's our dream vacation," she said and silently amended, "the worse freaking nightmare of our lives."
If you like this story, don't forget to check out my other Bill and Valerie tale.