Over the past five years, my kids have spent nearly 20,000,000 hours watching Disney movies. Ok, fine, that might be a bit of an exaggeration…but not by much. After all of that time spent in front of the boob tube, I can count up the things they've learned on one hand:
All princesses wear pink (even when they don't, they do in our house)
Songs sound best when sung off-key and loudly
Animals talk
I'll leave you to imagine how helpful these little life lessons will be as they grow up.
To be brutally honest with you, this situation frustrates the holy-ever-living hell out of me. Why? Because those kids of mine are missing the forest for the trees. There are some really awesome, really honest morals at the center of the Disney movies. Read over my list and see if you don't agree:
The Real Morals of the Disney Movies
CINDERELLA:
Girls who are self-sufficient and can single-handedly carry the weight of the world on their shoulders…those girls get the Prince.
JASMINE:
If you dress up like a Kardashian, your father will try and marry you off to every man who comes along…so put some clothes on already!
BELLE:
The hottest girl in town is the one with her nose in a book.
POCAHONTAS:
Bros before Hos…every time. Especially important to remember if your dude's friends come over and bust your place up.
SNOW WHITE:
Even dopey friends are better than no friends at all.
SLEEPING BEAUTY:
If you go dancing around with strangers you might find yourself knocked out cold in a bed. (Wait, is that too bad? Aww, screw it. It's kinda funny.)
ARIEL:
Your parents can give you legs and they can take them away again just as fast. So don't F things up.
MULAN:
If you wanna be a crossdresser, that's cool.
LION KING:
It's totally cool if you accidentally fart in front of your friends.
RAPUNZEL:
Every woman should own a good cast iron skillet.
BRAVE:
If you screw your mother over, do not be surprised if she goes all Mama Bear on your ass.
FROZEN: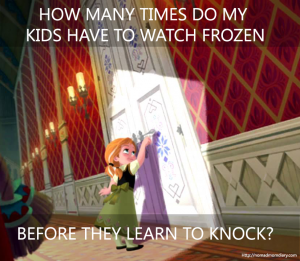 Knock on the mothereffing door FFS! Just kidding…kinda…the real moral is that if your dude is a good guy, you should marry him regardless of the fact that his family is a bunch of trolls.
What do you guys think? Do you agree? What did I forget?