Ahh, the holiday season. A time for love, being thankful and trying to find that exact right holiday gift to express your emotions.
If you're like me, you cringe when someone gives your child a Christmas present. In my experience, these gift-givers tend to fall into one of three categories – people who buy reasonable things like books, people who mean well but just have absolutely no clue what they are doing, and lastly, people who use the gift as an opportunity to say "I hate you" and still put a nice ribbon on the top.
I like to refer to this last group as passive aggressive present givers.
PASSIVE AGGRESSIVE PRESENTS
Let me give you a few examples of the types of gifts you can expect from the passive aggressive present giver. I also call this list "things not to buy my kids for Christmas unless you want me to hit you" or "if you give this to my kid, I will make a note and payback will be a bitch". In other words, if something below is wrapped on your sideboard just waiting for Christmas morning, you might want to dig that receipt back out and hope that the store has a returns policy.
1. Any Play Doh playset – also known as the OCD detector. Yes, I know that it isn't normal to continuously realign the cookies and plasticware at playgroup, but if you think I have OCD, why don't you just come right out and say it? I think we both know that giving my kid four colors of play doh and a machine that smashes them together is only going to result in me chiseling them back apart again, one molecule at a time, at 2 o'clock in the morning. I have OCD. Let's move on.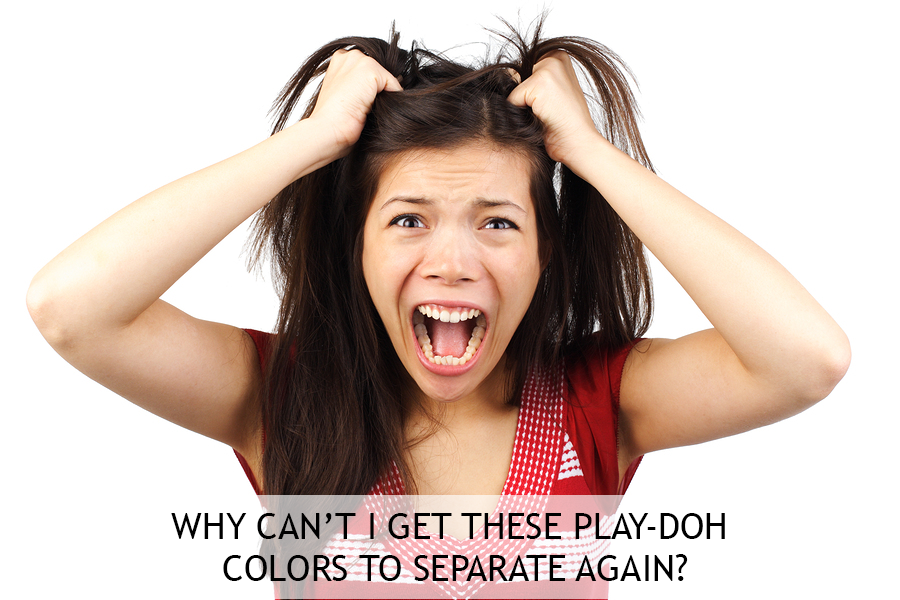 2. Bath crayons – also known as the grime detectors. Bath crayons seem like an ideal gift…kids can color and get clean at the same time. However, every parent knows that if you let one of those babies into the bathtub with your baby, you'll be scrubbing smiley faces off the side of the tub for a week. And don't even get me started on what happens when they disintegrate into the drain. Do me a favor and just give me a bottle of clorox clean-up and be done with it already.
3. Craft sets – aka the devil. I know that you think that I'm the devil incarnate because I won't let my kids fingerpaint at home, but giving them a set of shoelaces, 438 tiny plastic beads and instructions to "make mommy a nice necklace" is not going to teach me a lesson. Actually, I take that back. It will teach me a lesson, which is that I need to get some less Miss Judgie McJudgerson friends.
4. Musical instrument – aka the leading cause of parental ear bleeding. Giving a kid other than you own a musical instrument is the passive aggressive way of saying "I hate your guts". Seriously. Do us both a favor and break up with me. My ears bleed enough as it is already.
5. Any toy that necessitates parental intervention. The 100 piece puzzle. The 5 and up board game. I work, people. The last thing I want to do from 6-8pm every night is walk my kids through complicated instructions for the 1000th time because you bought them something that they're too young to have. If you want me to spend more time with them, how about buying them a tea wine party playset and a few DVD's?
6. Hair accessories – also known as "fergawdsakes, brush your kid's hair sometimes" reminders. Have you ever brushed massively curly hair? I'd brush mine, but I can't hold my arm far enough away to do a selfie and still fit it all into the frame. Give those Ariel clips to the kid with board straight hair.
And last but not least…
7. Candy jewelry – also known as neck tattoos. Candy jewelry tastes like shit. You and I both know this. So I know that when you give my kid a candy necklace that you know she is gonna take two licks of and then sweat on for the rest of the day, you're trying to subtly send me a message that I need to put her in the tub. Maybe you'd like to pair that with the bath crayons and some hair bows next time?
I could go on and on and on….but I still have a few retribution gifts left to buy and this Amazon cart isn't going to check itself out. If you think there's something else I should add to my list, leave me a note in the comments, ok?