High up on the hill of Montmartre, just shy of the spotlights around the Sacre Coeur, is a tiny little fondue restaurant. The fare is cheap but plentiful, the seating consists of two long rows of picnic tables and the wine is served in baby bottles. It is a Parisian hole in the wall, a touristy spot that calls to the youth, but not one you'll find listed in any guidebook.
The first time I saw Montmartre was 1995. I was a fresh-faced 17 year old on my first trip abroad. I spent two weeks at the home of Cecile, the foreign exchange student who I had befriended in high school, before spending my last weekend with her aunt in Paris.
"Please come with me. My aunt won't let me go to Montmartre without you and I really want to see those guys again," she begged me that evening.
"Are you crazy?!?! We don't know those guys at all! There is NO WAY we can go to the Sacre Coeur all by ourselves! Anyway, I'm exhausted. I've been trying to keep up with everyone's fast French and my brain is mush," I replied.
She begged and pleaded some more but to no avail. I knew that a small town girl from Mississippi had no place in the rough and tumble world of Montmartre.
Seven years later I was back in Paris. In the intervening years I'd gone off to college in California, moved to Italy, moved back to San Francisco and was back in Italy again. I was miles from my high school in every sense of the word.
I'd flown in to spend a weekend with my college friend Annie. "Let's go to Montmartre for dinner. I want to see the Moulin Rouge and the Sacre Coeur," she suggested. I nodded a quick yes and we dashed off. We wandered the streets, peeking into the darkened windows of the artist studios and trying to imagine ourselves living that life.
Tired and hungry, we ended up at the fondue place. We laughed out loud when the wine came, ordering baby bottle after baby bottle. We stumbled out hours later, the alcohol overpowering the bread and cheese in our stomachs.
"Oh my gosh, that bar over there has absinthe in the window," one (or maybe both) of us exclaimed. We ordered a tiny glass each and waited for the creative spirit to descend. (It didn't, but a hangover sure did.)
Over the years, I've been back to that same place time and time again. Once I went and ended up sitting next to a rowdy group of Americans. We asked what they were doing in Paris and they answered, "We're seven people picked to live in a house to find out what happens when people stop being nice and start being real." The answer certainly explained the TV cameras around them.
More time passed until I found myself back in Montmartre again, staring out a window. I'd slipped out from under the covers and tiptoed across the room, being careful not to wake the man sleeping beside me. The lights reflected off the white exterior of the Sacre Coeur, mere steps away, and filled the room with a soft glow. I gazed up at its outline and thought about how far I had come.
That's Paris, a city that at first seems harsh and glaring, its rapid-fire speech and grandiose sights overwhelming your brain. By the second visit, you start to find the courage to seek out a new area and lose yourself in its charm. The third, fourth and fifth visits scrape away the veneer of the strange and start to take on the familiarity of an old friend's home. Finally, one night you find yourself wrapping its lights around you like a lover's arms.
I still love Paris. But the realities of motherhood and work life mean that I don't make it there very often. Reading about it is about as close as I can come. I've been waiting (im)patiently for the launch of That's Paris, an anthology featuring some of my favorite BLUNTmoms.
The book is perfect for armchair travel enthusiasts who want to get away anytime they have a few spare minutes. All of the author proceeds are going to support the charity Room to Read.
Intrigued? Here's the back cover blurb: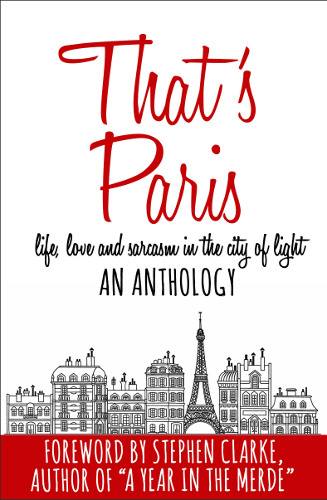 Paris—the most romantic, beautiful and frustrating city in the world!
If you've ever traveled to Paris, lived in the City of Light or dreamed of setting foot on its cobblestoned streets, you'll enjoy escaping into this collection of short stories about France's famed capital.
From culinary treats (and catastrophes) to swoon-worthy romantic encounters (and heartbreaking mishaps), this anthology takes you on a journey through one of the most famous cities in the world.
View this cosmopolitan metropolis through the chic eyes of Parisians, francophiles and travelers who fell in love with the city and haven't quite gotten around to leaving yet…
That's Paris: a glimpse into living, loving and surviving in the City of Light.
I know the writers of this book, I know their work and the calibre of their stories and they are all fantastic. You can read the book for FREE right now if you have a Kindle Unlimited subscription like I do…or you can buy the ebook for only $4.99 and know that the proceeds are going to charity. Don't wait, I know I'm not!