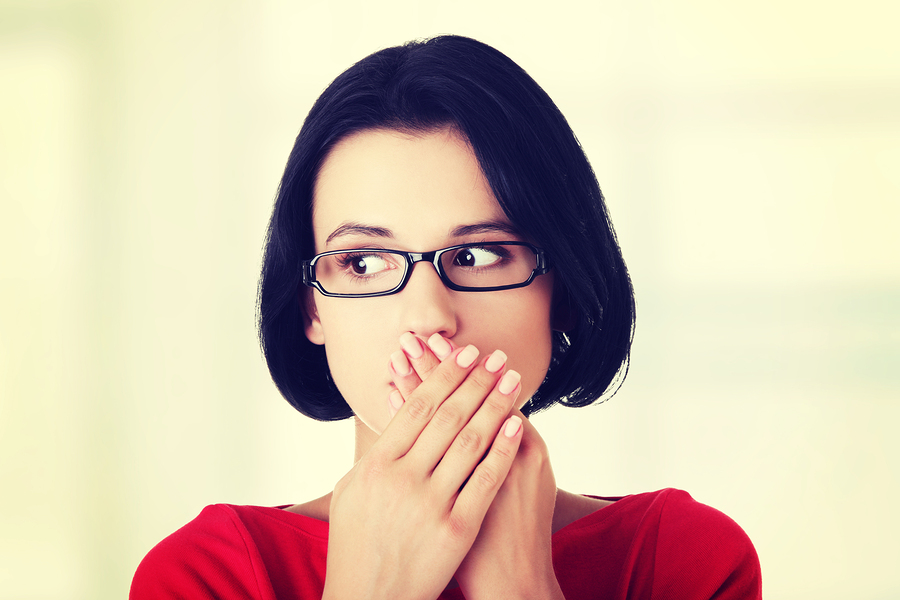 The first time I said the F word, I was eight years old, and it was such a traumatic experience that I still remember it 29 years later.
There I am, standing in the school bus aisle, staring down at my arch-nemesis. I think he's cute, he thinks I'm cute, but at 8 years old the only flirting we know is to flat out brawl with each other. On this day, pretty much like any other day, he and the older boys are teasing me about something…my hair, my dress, my name. Who knows and who cares. What is important is that today is the day that I have HAD it. I slough off my last shreds of temerity, suck in a deep breath, look him straight in the eyes and I say, "You are a M-Fer".
That's not me editing the actual phrase to make this PG…I was so innocent back then that I could not even bring myself to utter the full phrase. It didn't matter, because the mere hint of the F word rocked him back on his heels. I flipped my hair over my shoulder, slid back into my bench seat and then immediately succombed to a terrible case of heartburn. I had said a really, really bad word and I was terrified my mother would find out.
I stewed on it for a few days, the acid creeping further up towards my eight year old throat, the fear of terrible trouble plaguing me night and day. When I couldn't handle the guilt anymore, I crept into my mother's room and confessed my transgression.
"Mommy, I called Robert a M-Fer."
"Did you call him a M-Fer or did you call him the full words?" she asked.
"Oh no, I didn't say the full words! Just the letters!" I exclaimed in shock and horror.
Looking back now, I realize that my mother probably bit a hole in her cheek trying not to laugh out loud at my complete innocence.We had a really good talk about intent and meaning, about how saying the letters and saying the words are the same and how bad words said in any capacity can hurt other people's feelings.
I was well into middle school before I found the courage to say the F word again.
Now the word "Fat" on the other hand….
I honestly have no clue when I first said it, but it was certainly well before I was eight years old. I started taking dance lessons at age six and as we lined up in our little leotards and tutus, it was immediately apparent that not all of our bodies were the same. Some of us had ballerina bodies, stick-skinny arms and legs and the body fat percentage of a wire clothes hanger. Others had rounder torsos and thicker thighs, athletic builds capable of powering swings high up into the air. And some of the little girls fell into the chubby category, still clinging to the last signs of babyhood in their pinchable cheeks and dimpled thighs.
Early on, by watching videos and listening to the grown-ups, we discovered or learned or were taught that this third category of body type was less ideal. Fat girls didn't get the solos. Fat girls had to do extra sit-ups. Fat girls stood in the back row, far away from the spotlight.
Over the years of elementary, middle and high school, the word "fuck" remained off limits. But "fat", we felt fat and looked fat. We fat-shamed ourselves and others. In TV and the movies, the fat friend finished last unless she was a secretly skinny girl hiding under mountains of clothing and ugly glasses.
Now that I am a grown-up and a parent I realize what an absolute travesty it is that we do everything in our power to keep kids from saying "Fuck" – we ban it from the airwaves and censor ourselves with ridiculous alternatives like "Fudge" and "Frick" – but we hardly bat an eye at the F word that is really, really bad.
FAT.
If someone tells us to "get fucked" or "go fuck yourself" or to "fuck off", we might send smoke signals out of our ears for a few hours, but that's about it. We don't walk away from an argument wanting to butcher the "fuck" from our hips, waist and thighs.
When someone calls us "fat" we internalize that word, we second guess every clothing choice and every bite of food that goes into our mouths. We pinch and pluck and gnash our teeth and that damn little three letter word burns a hole right into our psyche. It makes us spend millions on miraculous fat cures and stupidly unhealthy cleanses, or worse yet, spend nothing as we slowly starve ourselves to death.
The word "fuck" has plenty of positive connotations….going to a party and getting fucked up, a steamy sexy night of hard fucking. It can be a toss away word to help us shed those ideas that weigh us down….fuck this and fuck that.
I can't think of one positive way to use the word "fat".
The closest anyone has come was turning the word into an acronym PHAT (pretty hot and tempting). We had to change a three letter word into a four letter one and depend on phonics to try and make it into something nice.
I've liberally sprinkled the words fuck and fat throughout this post on purpose. How does it make you feel? I bet most of us squirm in our seats when confronted with the former, wondering if I couldn't have made my point with a few less of them. And we probably didn't even bat an eye over the latter, and certainly didn't grab our pearls and frown in frustration. You know what? That is seriously, seriously fucked up.
I think it's about time for us to admit that we've been penalizing the wrong F word. Maybe, just maybe, we should focus on the word "fat", striking fat from our vocabularies, keeping fat off the TV stations and newstands, making our children feel ashamed to call anyone (including themselves) fat. Maybe then we'll accomplish something truly meaningful.
Not all F words are created equal, and the truly horrible one isn't "fuck". It is "FAT".