I am sure that you have all seen those blog posts and articles showcasing the contents of someone's purse. I have a news flash for people that write those – I really hate them. I don't want to see what another mom has in her purse. Likely it is the same crap that I have in my purse…a bunch of half-used kleenex, cookie crumbs, hand sanitizer and other random shit my kids give me to shove in there.
Even worse are the posts with single gal purses. Is there anything more depressing as a mom than having your complete lack of coolness validated by the internet? The single gal has fancy lipstick. I have chapstick. She has condoms. I have diaper rash cream. She has concert ticket stubs. I have the Wiggles concert video. Just go ahead and put me out to pasture already.
So I am not going to do that here. Instead, I am going to open up a literal can of worms and showcase the inside of my kid's purse. She's almost four. She loves pink and princesses. She is a kleptomaniac. And apparently she has a serious problem distinguishing trash from treasure.
See for yourself: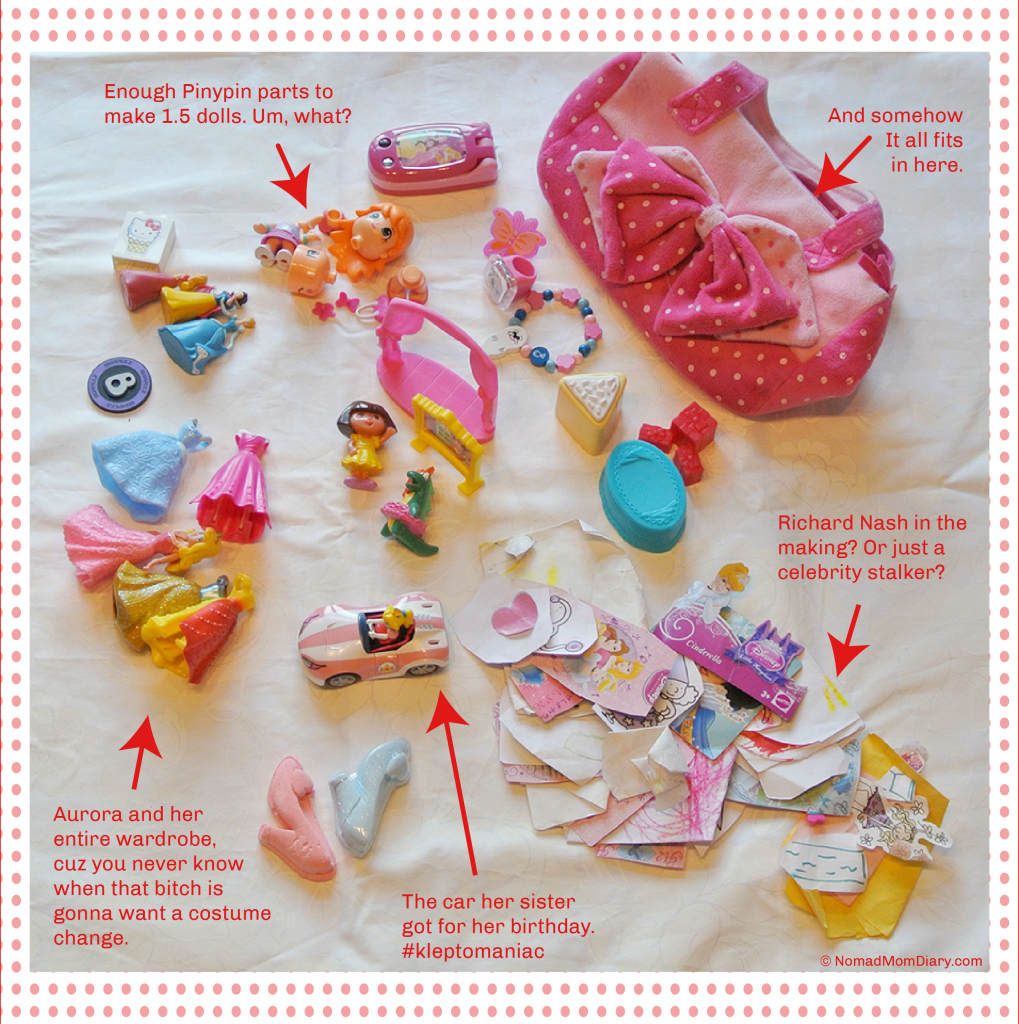 The assorted Princess miniatures I get. My little one just turned two so we are very into the "birthday party" concept at the moment. Thus the slice of cake, party table and presents. Ballerina Dora and her dance studio are obvious musts. I mean, what if she were out somewhere and was required to act out Swan Lake and she didn't have those. That would be embarrassing!
She does have a few practical items. She just borrowed the princess mobile phone from our neighbor this afternoon. She must have walked straight into the door and hid it in her purse. Nevermind that we already had a Belle phone. This one is pink, so it is obviously better. The two pieces of Cinderella's slippers sidewalk chalk should come in handy if she needs to write mommy a note.
And then there is the random shit. Why are the Pinypins disassembled? Why aren't there enough pieces for two complete dolls? Why did she steal her sister's birthday present matchbox car? It is so new, G is still playing with it. And the mountain of clippings? Should I be checking her closet to see if it looks like a scene from A Beautiful Mind? I tried to throw away an old sticker the other day. That kid has eyes in the back of her head. She did a vocal bitch slap from across the room that left my ears ringing for the rest of the day.
The biggest mystery is how all of this fits into that one purse. I have no f'ing clue. I blame it on my neighbor. She let her watch Mary Poppins recently and admitted that Addy was wide-eyed and glued to the TV during the unpacking scene. If I find a lamp in there, we are going to have words.
There you are, ladies and gentlemen, the contents of my kid's purse. Would you like to share the contents of your kid's purse? Just send me a photo to lynn (at) nomadmomdiary.com with a description and I will post it up. Or, post it up on your own blog and send me the link. I'll add it here.