Yesterday you were born. Today you are three and five. In the blink of the eye you will be thirteen and fifteen. Teenagers. It takes my breath away.
As I sit here and watch you two play in the garden, I can't help but think of all of the words of advice I need to give. I worry that my courage and strength will fail me at the crucial moment or worse yet, that I might somehow not be here at all.
So although you are still so very young and teenage angst seems years and years away, I sit here and write you this letter. My words, my thoughts, advice from my heart and mine alone.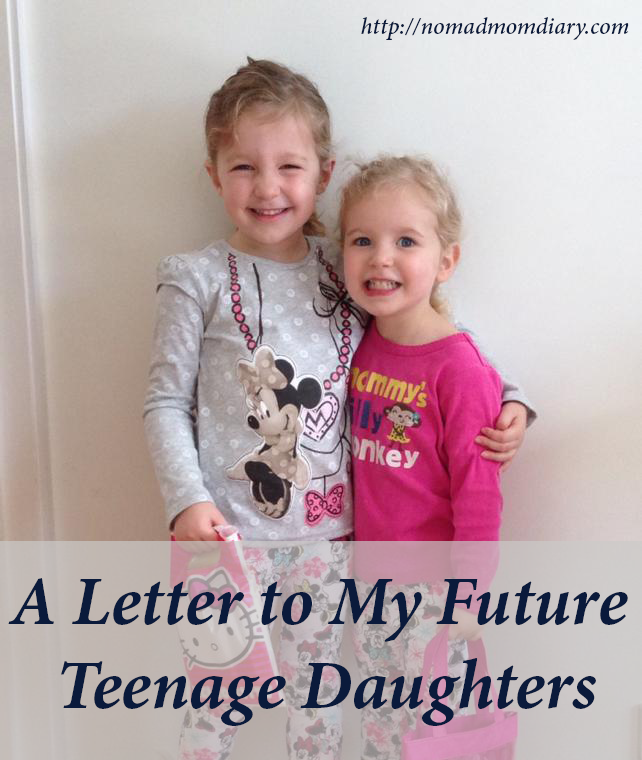 To My Future Teenage Daughters,
I want you to listen carefully to everything I have to tell you. Some people in the world will want you to think that these are the best years of your life. They are not. In fact, these years will be some of the worst of your life. Hormones raging, bodies changing, so much to learn and so many challenges yet to come. These years will shape your personality and see the first inklings of your dreams. They will define your spirit and help you find your courage and if all goes well, set you on a path that will lead to great happiness down the road. They are not the destination, but merely an important stop along the way.
In these teenage years, you must learn about three things: your place in society, your control over your body and the power of your mind. If you master these lessons, I firmly believe that you can go on and conquer anything. And so it is that my words of advice to you will focus on these three areas: society, body and mind.
Society: Let me start by saying that you have a place in society. You simply have to find it. Popularity in high school is often based more on your ability to belittle others than any part of being yourself. Do not fall down that rabbit hole. It is my dearest hope that you find your place hiding away in a corner in the library playing the modern day version of Magic: The Gathering or in the computer lab or art room or out on the sports field. Find that thing at which you excel, that one activity that makes you proud and let that be your identity. If you can do that, nothing that anyone else can say will ever be able to move you from your place.
Body: Sometime in the next few years, you will want someone to touch your body. And you will want to touch someone else's body. If anyone tries to give you advice about this using cow/farmer or any other barnyard analogy, you have my permission to punch them in the face. You and you alone will determine when, with whom and what meaning you will place on sex. Not me or your father. Not some teacher and dear lord, I hope not some girl or boy. Sexual attraction is normal and healthy and you should feel free to explore it. Sex can be about love or power or nothing than more than immediate gratification. The sooner you learn that, the better off you will be. Simply put, I do not care if you have a cavalier attitude about sex so long as you are not cavalier about keeping yourself safe.
Mind: These are the years in which you must begin to dream. You have to start imagining yourself as an adult with a degree and career and responsibilities. My advice to you is to imagine yourself in as many scenarios as you can. The musician might go to Broadway or teach piano at home. The researcher may become a professor or cure cancer or teach high school chemistry. You need to explore and envision and find that nugget of truth that binds all of the scenarios together. This nugget is the one core thing that will sustain you when you go out into the world and put your dreams to the test.
I love you girls more with each passing day, so much already that I do not know how I will handle the love I will feel when you are grown. So I ask you and I tell you – find your place, love your body and free your mind.
Love,
Your Mother