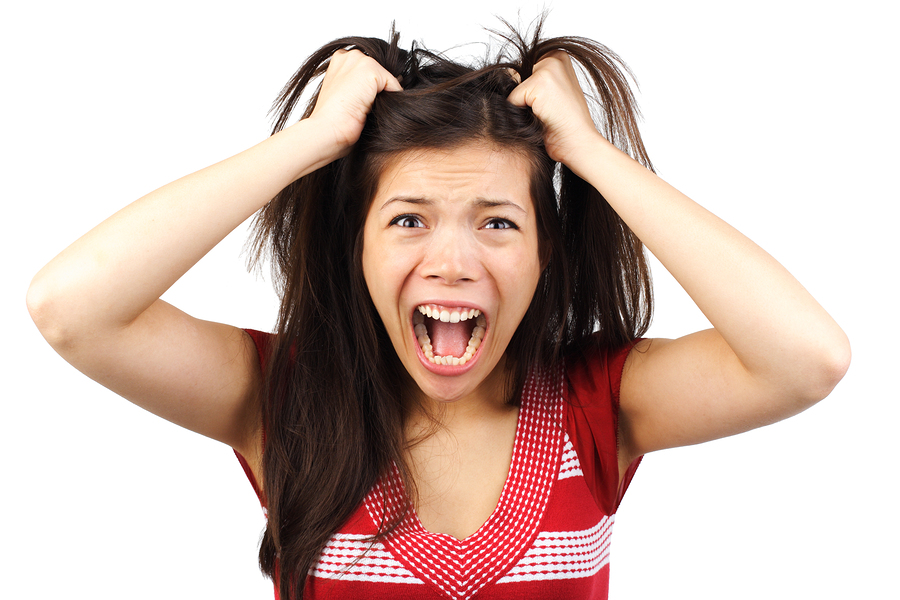 I scoffed at the idea of "pregnancy brain". Sunning myself in the glow of the second trimester, I could not imagine a stupider thing. How could the baby eat my brain cells?
A few months later, as I prepped to head out for maternity leave, my boss called me into his office for a download on my work. Everything was going well until we hit upon the mystery project.
"What's the status of the XYZ project?" he asked innocently.
"XYZ project?" I asked right back at him, perplexed look on my face.
"Yes, you know, you worked on it in the fall."
"Are you sure that I was the one that worked on it? It's not ringing any bells."
"Yes, I'm sure. I sent you to the meeting in my place. You had to pull together a bunch of data…" he trailed off, the concern about my confusion becoming evident on his face.
"I. Have. No. Idea. What. You. Are. Talking. About."
I really had not a single clue what project he was referring to…and that scared the shit out of me.
Five years and two births later, I still suffer from pregnancy brain and its mild dementia-like symptoms. Anniversaries forgotten. Work deadlines overlooked. Coworkers who gently explain and re-explain the same projects to me each week. It gets so much worse with sleep deprivation, but even well-rested, it never entirely goes away. It isn't a matter of accepting that I'm going insane. It's forgetting that I ever wasn't insane in the first place.
Until today.
I'm sitting at home, buried under a mountain of editing work that's been collecting while I've been in bookland. Nomad Papa calls to let me know he is on his way home from the pool with the girls.
"While you're home alone, why don't you work on the alarm?" he suggests.
"Huh?" I elegantly and wittily respond.
"You. are. home. alone. Go set the alarm and see if you can set it off by walking around," he clarifies, and not very graciously, I might add.
"Fine," I noncommittally reply.
I'm sure you can guess what comes next. I go back to editing the piece in front of me. I squirrel around on facebook and then frantically realize that I have five minutes left to put a healthy lunch on the table. I dash and dart up and down the stairs, carting laundry from room to room, tidying the evidence of my slothfulness and hurriedly warming premade soup on the stove. Nowhere in there do I come close to approaching the alarm cabinet by the front door. When he asks about it later, I point blank admit that I just completely forgot. No apologies. Just the facts. Pregnancy brain and I'm still insane.
After lunch my three year old comes in, frantically searching for her new tube of chapstick.
"MOM, I CAN'T FIND MY LIPSTICK. CAN YOU HELP ME?" she shouts at the top of her lungs, despite standing a mere two centimeters from me.
"Yes," I answer, with no hesitation, "it's wrapped in the leopard print scarf and lying in the hallway."
It hits me. I am not insane. Not even close.
My pregnancy brain struck exactly when I started prenatal classes. A lot of really important information needed to go into my head. Something needed to come out. This has continued for five years, a daily prioritization and categorization of information. Husband requests? Ignore if not urgent. Work? If not the lead, pass off paying attention to another and schedule weekly catch-up meetings.
But the kid stuff. All of the kid stuff goes right to the top. Shoe sizes and clothing preferences, favorite foods, toys, books, words, days. The location of every single item in my house, all mapped out on a mental mainframe that Google would envy.
Pregnancy brain doesn't make you insane. It makes you crazy smart, in a way that only another mother can appreciate.
(Speaking of crazy smart, you can find me and a bunch of other insane moms writing about our husbands in I Just Want to Be Alone…now available on Amazon, iTunes, Barnes & Noble and Google Play.)