Flying with kids is a lot like labor. You get pushed, pulled, prodded and poked for hours. You utter curses, whisper threats and make sure that everyone knows who's to blame for putting you through this. The event lasts an eternity and yet within a few days you've mostly forgotten all the reasons why it was so terrible.
Before you pack your suitcase and head out the door for the airport, I suggest you take some time to refresh yourself on the trials and tribulations of flying with kids. So here it is…the Kid Flight Test.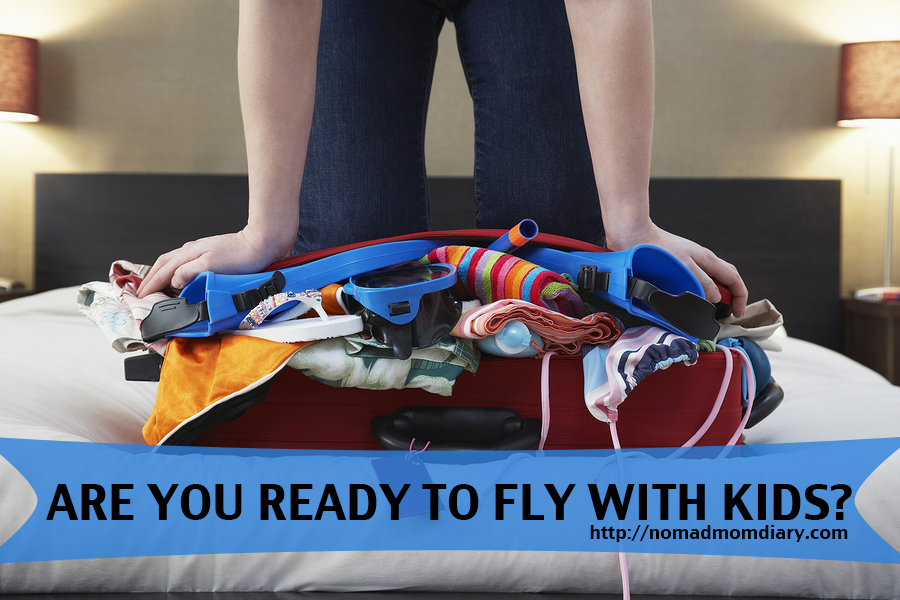 Packing

Get out your largest suitcase and fill 90% of it with towels. Now pack a week's worth of your winter clothing in the remaining space.
Write a long list of everything that you must have with you on the trip. Put the list in the pocket of a pair of pants and then wash and dry them. Now fish it back out and use it to make sure you don't forget anything. This will prepare you for trying to pack at the last minute while the kids are screaming at you.
Take out your smallest carry-on bag. Pack the following items into it and make sure it still zips shut: two stuffed animals, three age-appropriate toys, a week's worth of snacks for a 350lb man, one coloring book, 24 crayons (loose), a dvd player, twelve dvds, 3 books for baby, an iPad, a laptop, four passports, a baby blanket and a change of clothing for the entire family.
By far and away, the hardest part of getting to the airport is fitting everything in the car. To best test your preparedness for this, remove your kitchen sink, cupboards and refrigerator and attempt to pack them in the car while still leaving space for everyone to sit.

Checking in and Security

Navigating check-in and security will require significant upper body strength and patience. You can prepare as follows: put a carry-on suitcase filled with books, your diaper bag, a breastfeeding pillow and three coats into your stroller. Now put your baby into a baby carrier (baby bjorn, etc) and then put on your heaviest coat. Go out in the summer, pushing the stroller, and walk three miles at a pace of 1/2 mile per hour. This will prepare you to wait in line.
Put four dogs on leashes and take them to the grocery store. Gather as many groceries as you can hold in your hands and then go and stand in the longest line. Change lines several times to make sure that you wait as long as possible. When you are one person away from checking out, take-off your shoes and coat without letting go of the leashes or the items in your hands.
Go to a department store and randomly pass your child off to strangers. When you can do this without any concern for your child's welfare, you are ready to go through the metal detectors.

Waiting to take-off

There is only one way to adequately prepare yourself for the reactions of your fellow passengers to the arrival of your toddler. Put on a shirt that says "I love Hitler and worship Satan" and go and walk through crowded areas, yelling at random people for 6 hours. The amount of dirty looks you get during all of those hours combined will be roughly the same as what you will get during each hour you spend in the airport terminal.
Go outside and attempt to get a squirrel to put on a belt and sit in lawn chair. This might actually be easier than trying to put a seatbelt on a toddler.

The flight

Fold yourself into a seated position into the smallest size moving box you can find. Next place your child in your lap. Now eat dinner while holding a cup of hot coffee without spilling anything.
Walk up and down the hallway of your home while holding the front paws of a dog. Do this 200 times.
Take your child to a popular restaurant during Saturday brunch. Attempt to get him to take a nap in a small basket sitting on a chair in the middle of the room.
Take your cardboard box to the same restaurant and sit in it. Flag down the waiter every three minutes and ask for random things that they obviously won't have. Their responses will be the same as the flight attendants to all of your reasonable requests for assistance.
Call your mother-in-law and ask her what you are doing wrong and how she thinks you should raise your child. Listen to her for 4 hours without expressing any frustration. This will prepare you for suggestions from fellow passengers and airline staff.
Hide all of your child's toys and try and keep him entertained for an entire day using one book. Better yet, sit in the cardboard box while doing so.

From airport to destination

The end of your flight does not signal the end of your travels. You still have to get home from the airport. To see how this experience will go, take a friend to a bar and get them blindly drunk. Then attempt to put them in a carseat and drive home with all of the windows up and the heat on. The end result should be about the same.

Jetlag

Last, but certainly not least, is the dreaded demon jet lag. Your child will suffer from jetlag even if you don't cross time zones. The best preparation for this is to get really drunk and then borrow a friend's newborn for next three nights in a row. Spend your waking hours trying to prevent your own child from napping. Smile at everyone and assure them that you are having a good time.
If you can successfully handle all of these tasks then you are ready to fly with your child. Congratulations!