My mom gave me an iPad. Oh wait, let me rephrase that. My mom gave my kids an iPad and sometimes they let me borrow it. Sound familiar to any of you?
When it comes to entertaining my kids for more than 5 minutes, I look for games that are part of a bigger package – toys, videos, books AND an app. And I want all of these to be engaging and age appropriate! Is that so much to ask?
For a long time, that was too much to ask. Peppa Pig let me down. Hello Kitty let me down. The Disney apps were abysmal. Finally, FINALLY I found a package that had everything: Heroes in the City.
Many of you won't be familiar with Heroes in the City. That's because it is from Sweden and is just starting to launch abroad. Which is great because it means that you are not already annoyed by its characters. Something new, fun and educational for the whole family. Hooray!
Heroes of the City is a cartoon about rescue vehicles in a small town where everyone can be a hero. The videos chart the exciting adventures of the main characters: Paulie Police Car and Fiona Fire Engine. They help the townspeople find thieves, put out fires, and solve one of the many mysteries that happen in the otherwise quiet town. Adding comic relief is Calamity Crow, the most unlucky bird in town.
I love Heroes of the City because it teachs kids about what they can accomplish by helping each other. The cartoon is primarily targeted at children age 3 – 7. My girls, ages almost 3 and almost 5, love them. The app includes one full movie, three games and a music video for free.
Watch the trailer: http://vimeo.com/73132390

Download the app: from iTunes, from Google Play
To help launch the brand abroad, the makers of the series are giving away fun prize packs and they gave me one to share with one of you. The packs have a book, video and toy versions of the main characters. The giveaway is open worldwide!
ENTER TO WIN A HEROES OF THE CITY PRIZE PACK
The Prize Pack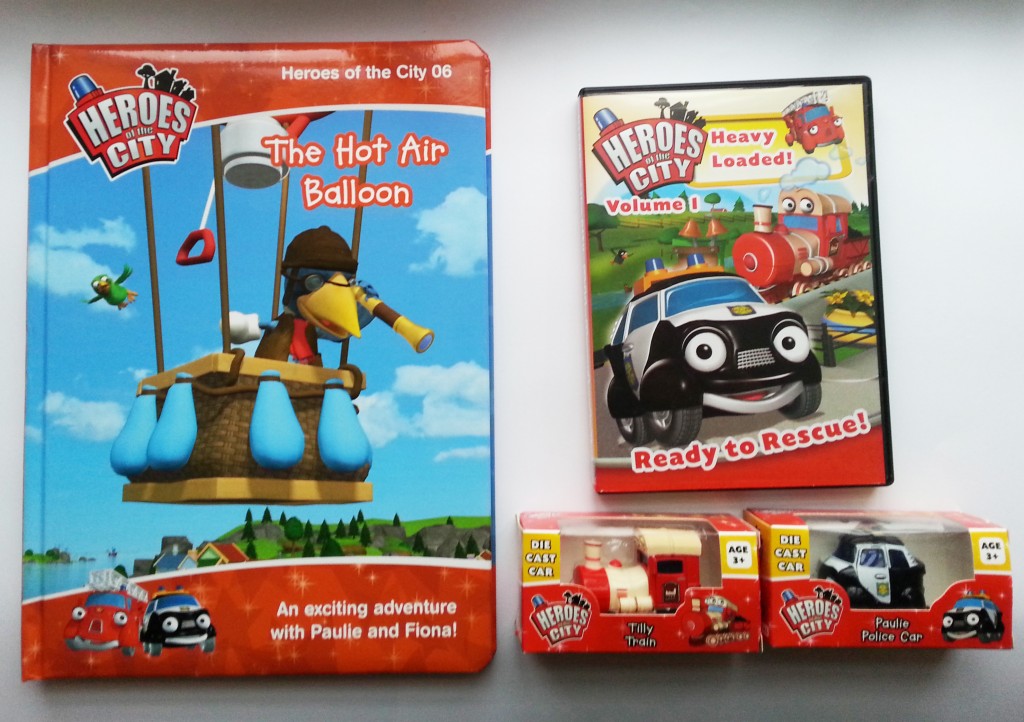 Watch them play!
And just in case you need a bit more convincing, here is a video of my girls playing the game.

So what are you waiting for? Go and check them out.
(Disclosure: I was not paid to write this post, but I should have been since I'm not sure I'll ever get the iPad back. We did receive a copy of the game and prize pack to facilitate writing the review. As you can see in the video, our opinions are 100% true and honest.)