Everyone talks about the upsides of raising multilingual children. Just ask me. I'll tell you how they'll be smarter and prettier and just plain better than all of their peers. It will be research this and studies have shown that and I'll never let you get a word in edgewise. Do you know why? Because I live in fear that you'll ask if I understand my kids.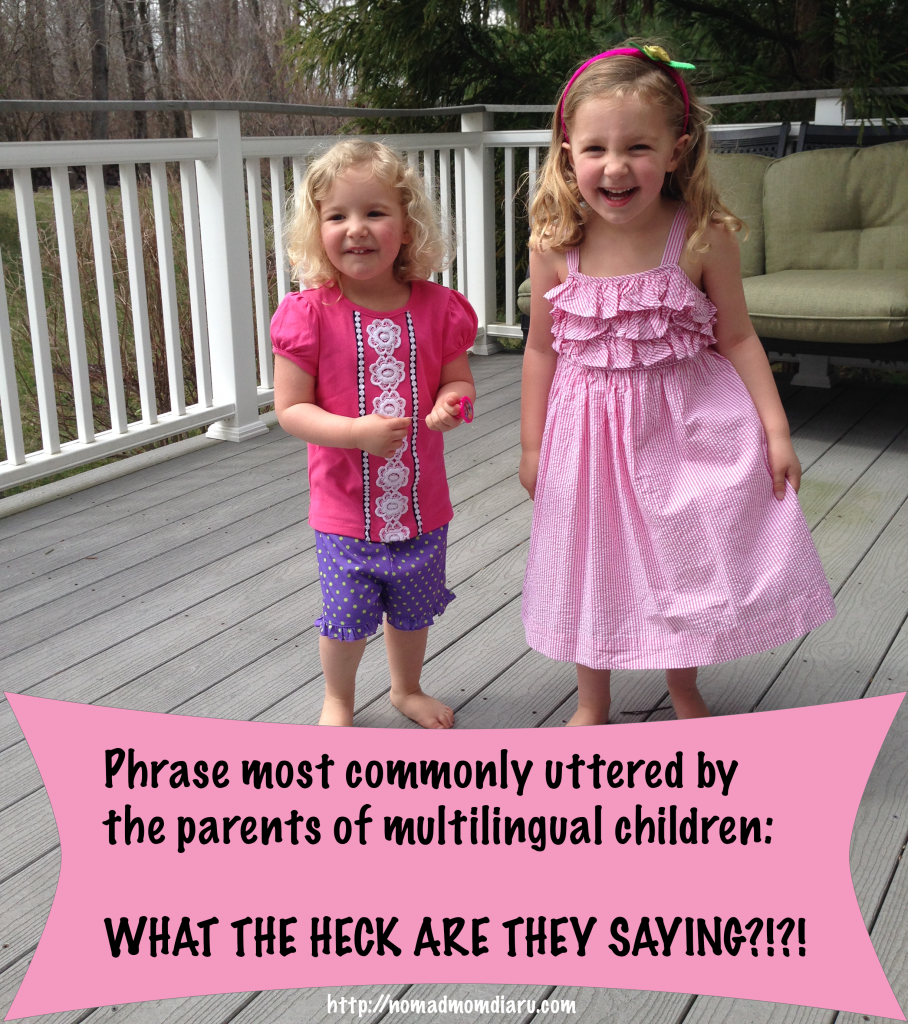 I don't want to admit that I don't understand my kids half the time. Their brains might be capable of making the language switch but mine is not. By the time I figure out the language du minute, they have gone and switched on me again. This has led to some interesting moments in our house.
There are times when I manage to overcomplicate the simplest request. When my 18 month old came and requested a "khoep", I spent five minutes going through every cabinet in the kitchen. Cookie? No. Cereal? No. Spoon? No. She wanted a "cup". A word perfectly pronounced in my own language, and I am the moron who can't figure it out.
Even as the kids become older and words become clearer, they still know how to throw you for a loop. The other day my 3.5 year old asked if she could "go upstahs". "Where?" I said. "Upstahs," she answered with an innocent look on her face. "Who are you, Posh Spice? We say "upsteers" in this family," I responded.
I have put a lot of time and effort into teaching her California dude-speak, and I won't have her throw it away to talk like the neighbor's kid. (Also, I greatly resent her ability to pick up an accent I have spent my whole life trying, and failing, to master. That just isn't right!)
Let's not forget the language favoritism that they show. It never works in your favor. Clean up? Forget it. The daycare teacher calls "opruimen" and your little one becomes a singing hoover. Meals are ruined (I said NO PEANUT BUTTER, ONLY PINDAKAAS), grandparents ignored and talking toys are twice as annoying.
So you won't find me at the pub on a Friday night. I'll be home watching webinars with a glass of wine in hand and reading up on the latest literature. I'll do whatever it takes to keep up the façade of genius parenting of brilliant bilingual children. You will never get me to admit that I don't know what the heck she is saying.
(This post first appeared a year ago on The European Mama)