Every year I face the same set of questions and the same reactions when the holiday season rolls around.
"Have you decorated yet? Are you going to get a tree? Have you done your Christmas shopping?"
"No. No. and Double No."
Here in the Nomad House we take a decidedly low key approach to the holidays. And by low key, I mean that we don't do crap to celebrate them. No decorations. No Christmas carols. No letters to Santa. Neither Nomad Papa nor I are holiday people and thus far (knock on wood) the kids seem perfectly happy to go right along with that.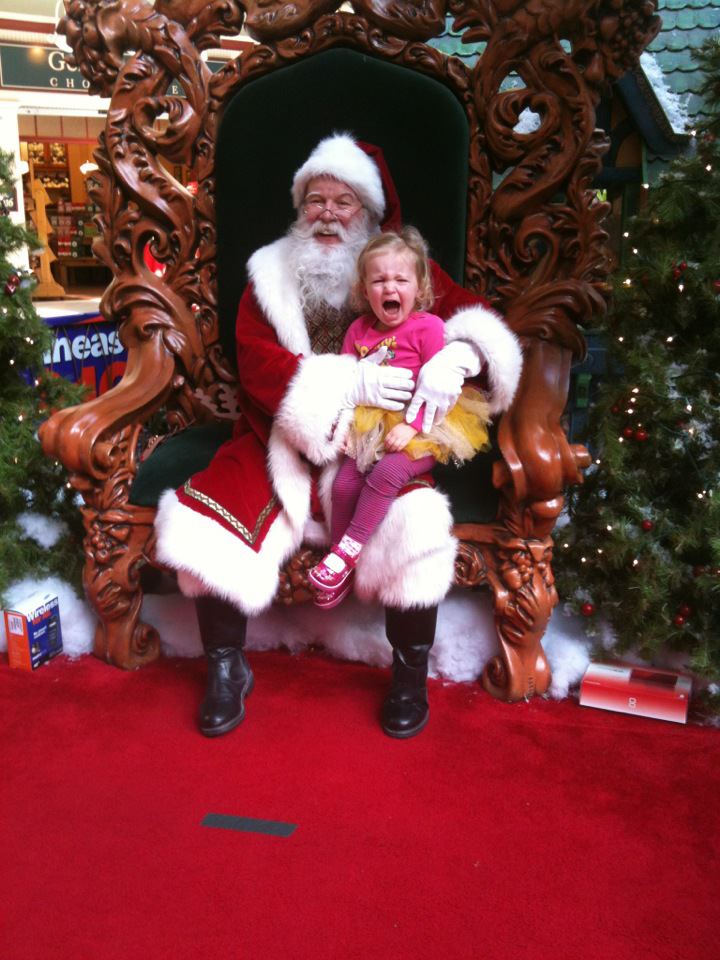 (Does this look like a face that is happy to celebrate the holidays?!?!)
Everyone else I know is much less willing to give us a free pass. I have been accused of practically abusing my children (by my sister), of needing to go to therapy (by a friend) and have been told numerous times that "things will change when the kids get older". No one, and I do mean NO ONE, has ever considered that I might have some very good reasons for not decking the halls with balls of holly. Since this is my damn blog, I've decided to put the holiday question to bed once and for all.
My Top 5 Reasons for NOT Celebrating the Holidays
We spend nearly every Christmas away from home, so what is the point in me dragging all of that junk out just to have to put it back up again when I get home. I mean, I already have 10 loads of laundry to do, dog pee to mop up, jet-lagged kids and my own sorry arse to drag around. Do I really need to add 14 hours of decorating and undecorating to my agenda when we won't be here to enjoy it? Do you know what else I could do with those 14 hours???
No one in my family cares. I cannot underscore this reason enough. I don't like to decorate. Nomad Papa doesn't like to decorate. The kids have shown ZERO interest in decorating. Are we supposed to spend hundreds of dollars/pounds/euros buying decorations just because everyone else does? Should we do it to make you feel better?
It pretty much is just another day. Let's face it, if you aren't religious, Christmas is pretty much the same as any other day. Instead of trying to feign significance, we avoid the madness (and high costs) by travelling on Christmas Day. And if we happen to already be somewhere, we take advantage of the solitude to get out and explore something new without the crowds.
We're expats who try NOT to live as expats. To do that, we have to let go of our preconceived notions of what the holidays should be, and be willing to embrace what they are instead. If Santa rolls up on Dec 5th instead of the 25th, fine by us. Christmas tree or no tree. Lights, nativity scenes, candles, advent calendars or nothing at all – we go right along with what the locals have planned by letting them show us how it is done.
Guilt, guilt and more guilt. We will never be able to spend the holidays with both of our families. They just live too far apart. Each year we face Sophie's Choice when trying to decide where to go, and then we feel guilt for where we aren't. So we prefer to think that ALL of the time we get to spend with our families is EQUALLY important. Instead of moping around all day and sinking into unnecessary depression, we've decided that March 25th is as special as December 25th if we get to spend it with the ones we love.
There they are…documented for both posterity and to save me the hassle of having to defend myself in the future. If anyone else out there is as Bah Humbug as I am, give me a shout out in the comments. And for the rest of you, go ahead and take your best shot. I'll use my extra 14 hours of free time telling you where you can shove it.
(P.S. Yes, we still do presents. We just do them anytime we want. Kinda awesome, huh?)