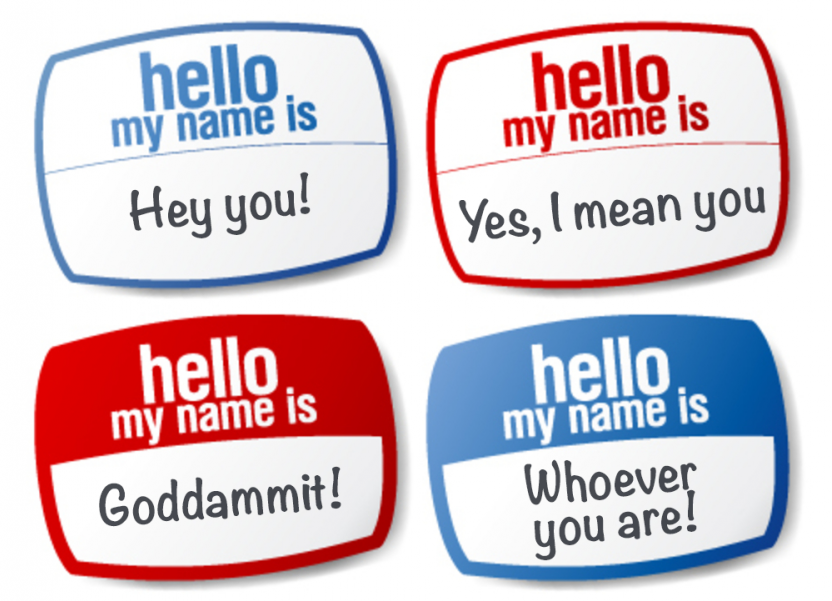 Some parents struggle when picking a name for their kids. Not me. I had names picked out back when I was still in diapers. The oldest was going to be Aleksandra (I would call her Sasha) and the youngest Alexis. I didn't care that the names sounded similar and pretentious. They were my names and no dumb man was going to dissuade me.
Then I married a man named Alessandro. With a mother named Alessandra. Fuck.
The thought of spending hours pouring over the books of names made my stomach churn. I would rather spend an hour at the dentist getting a root canal without anesthesia than spend an hour debating whether I wanted my kid's name to mean waterfall or warrior or pretty pearl.
So I gave up and decided to go with family names. If they were good enough for the previous generations, they were good enough for my next generation.
New name in hand, I set about making it my own. I used it constantly when trying to convince my husband to let us start trying (um, not a turn on as it turns out). When we finally did try, I cried the happy tears and said, "oh honey, maybe we just made our little Adelina." (Had my husband realised that we had in fact made our little Adelina he probably would have cried too…but not tears of joy.)
I kept the name a close secret. No one was going to make fun of it. But then we told our parents. His mom hated it. My mom wanted to shorten it. I was bitter and really pregnant.
Finally my perfect Adelina arrived and no one called her by that name. I fought long and hard and eventually realised that the only vote I had was whether Addy would end with a "y" or an "ie". It would be the first of four million parenting battles I would lose.
Four years and two kids later, I look back and wonder what the hell I was worried about. That kid's name makes no difference whatsoever. Wanna know why? Because I can't remember it. I can't remember anything. My name, her name, the one damn thing I needed to pick up at the store, where I left my car, pants, keys, shoes. I can barely remember how to put one foot in front of the other.
Pop into my house on any day and you are guaranteed to hear me call the kids by the dog's name, cat's name, the pet name I use for my husband, my own name and the name of the character in the book I was reading five minutes before. One right after the other. And then I'll end it with "Whatever your name is, go and put on your damn shoes already!" or something similar.
To all of you parents-to-be out there worrying over the name, just pick one already. You are going to end up calling them all "whatever your name is" and they'll undoubtedly hate your choice and legally change it when they are 18 anyway.