Late last year I made myself a promise. I said, "Self, if we want to make it big with this blog thing, we need to stop holding back. We can't be afraid to make a complete fool of ourselves. We need to go out, fall flat on our face, photograph that shit, turn it into a meme and post it on the facebook page."
I gathered up my courage and set-up a google hangout date with my favorite editor, Miss Magnolia Ripkin. "Mags," I said (never call her that, she hates it), "Mags, what do you think I should change about my writing style?" "Moron," she answered (that's what I get for calling her Mags), "Moron, stop taking all of the sass out of your writing. You start off like a bitch outta hell and then end your pieces like you're somebody's grandmother." "But Magnolia, my dad and some of his friends "Like" my facebook page," I offered up as my lame explanation. She was undeterred. "Get them out of there and go and be the crazy bitch I know you can be!"
Tail between my legs, I slunk off to lick my wounds. I needed to get my dad off my facebook page but I had no idea how to do it. I moped around, dreading the conversation. How on earth do you tell the nicest man on earth and your biggest fan that he has to stop reading your writing? I didn't have a clue.
Weeks go by and Magnolia keeps right on spanking me. "Where's the new you? I know you have it in you. Are you going to be a baby and cry in the corner? Put on your big girl pants and get your dad and his friends off the page already."
Finally, just this very week, something happened to give me the giant ass kick I needed. My mother-in-law "Liked" my facebook page. Awww, hell no. Hell-to-the-no. It was time to bring out the big guns….
Sex! Tampons! Other bodily functions that should not be discussed in public! Our parents will hate that and leave on their own.
I rush over to my iPad, type in my husband's crazy comment from the morning and then sit back and wait. Not one word from my dad and you guys go crazy over it. Ding ding ding! We have a winner.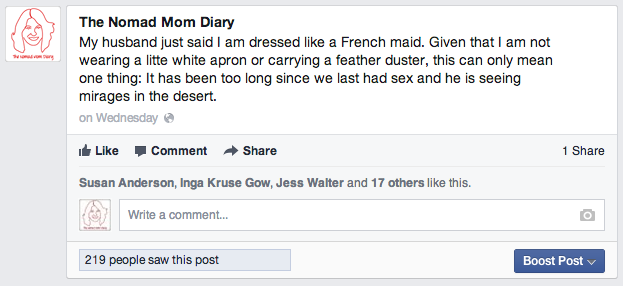 I knock off three more sex-related posts in 24 hours.
Tonight I cautiously sit down and begin writing this post. "Are they gone yet?" I ask myself. My facebook tab lights up with a notification. Dear old dad has just commented on my latest photo. It looks like a more direct route IS required.
So here's your fair warning. I have some big stuff planned for the blog this year. Some super huge things that I am 100% sure will happen. Some crazy-ass things that I *think* will happen. And some amazing things that I really hope will happen. I am going to stop holding myself back and start writing as though someone other than my dad is reading this. I hope you'll like it. If not, go and suck it. (See, it's the new me already!)


(Image from HuffPo Women)