Last week I sat down and wrote this post, with my tongue quite firmly placed in my cheek. Then yesterday I spent EIGHT hours trapped in the metal hull of a speeding 777 with my threenager. My tongue has been removed from my cheek. Sometimes I really hate being right.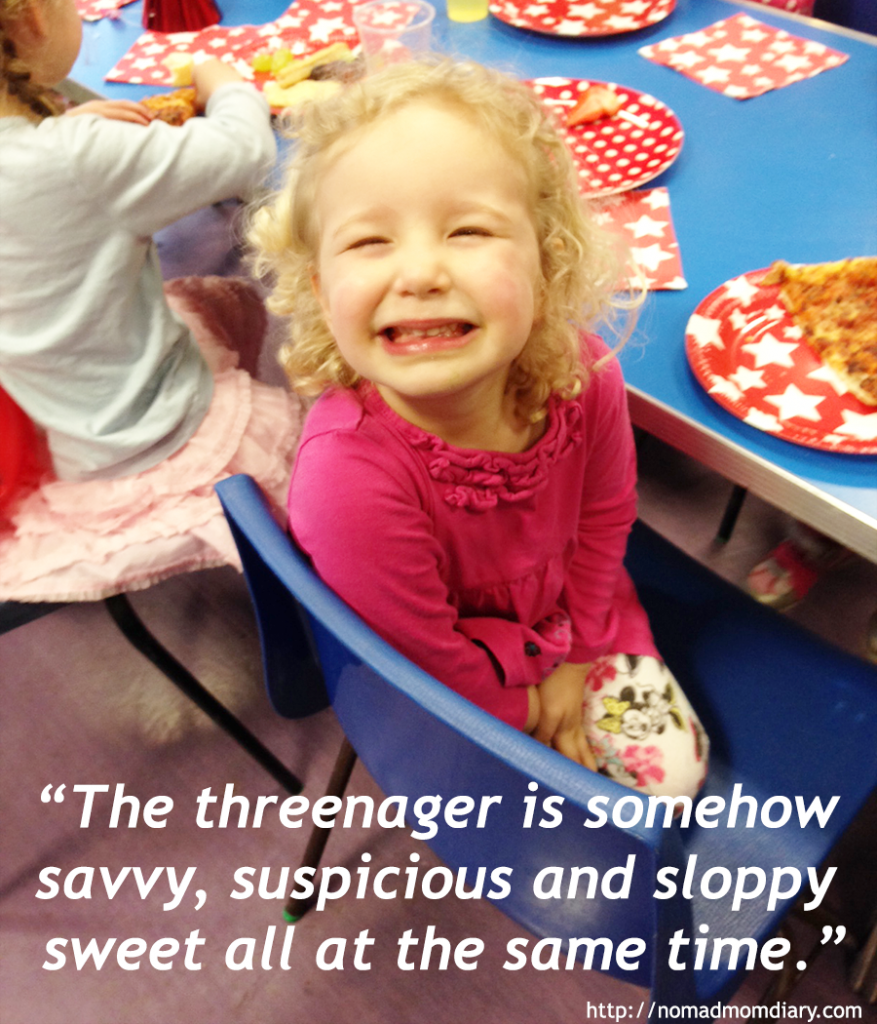 Forget everything they say about the terrible two's because there is a new terror on the block: the threenager. Today's three year olds are somehow savvy, suspicious and sloppy sweet all at the same time. It's enough to drive a mother completely batty. Just in case you aren't sure, here are the seven most common signs that your three year old is turning into a threenager:
SEVEN SIGNS YOU'VE GOT A THREENAGER
#1 – Remember when no meant no? You can forget that one. The threenager learns to distinguish the difference between the "I'm dead serious" and the "I'd prefer that you didn't" tones of voice. They are old enough to know that you aren't actually going to leave them behind and so you'd better have a chocolate covered reason ready for why they should "hurry up and put on their damn shoes" or "stop playing and get a move on it".
#2 – The guileless three year old will tell you why their friend is crying, the threenager will instead rush to give their oddly strange version of the events (she ran into the Barbie car). Settle in because it will take you 14 repeated requests for an explanation before they'll eventually 'fess up to their own misdeeds (she ran into the Barbie car because I kicked it at her).
#3 – "Mommy said that your house is messy," or "Mommy said not to tell you that we ate pizza for dinner every night while you were out of town." You'll know you've got a threenager when it is suddenly not safe to talk in front of the kids. Your only hope is that your kid will repeat something they heard the neighbors or daddy say before telling the neighbors or daddy something embarrassing you said about them.
#4 – The three year old is happy to croon the lyrics to "Let It Go" right along with you. The threenager pipes up from the back seat yelling, "Mommy, DON'T SING!" And if you thought hearing that song the first 4,298,780 times was annoying, wait until you have to sit through it in silence.
#5 – You'll know you've got a threenager when they start giving you advice…and you take it. "Mommy, that bag doesn't go with your dress" is one of my personal favorites.
#6 – Threenagers know an easy mark when they see one, and they know just how and when to ask for something they want. I used to get mad when my kid would make grandma buy her a crap ton of junk toys. Now I prep her in advance with my wish list. "Grraannnddmmmaa, I NEED AN IPAD!"
#7 – Last but not least, I meant it when I said those threenagers are savvy. They know they've got one currency and one currency only: baby kisses and baby cuddles. If you want a hug, you'd better be prepared to pay for it. And if they come running up and snuggle up without you asking first, you'd better retrace their steps. The threenager never cuddles without a compelling reason, and if it's not at your request, you can bet that there's a disaster waiting for you somewhere.
Thank god they're only threenagers for a year. I can't wait for mine to turn four…That's an easy year, right? RIGHT?!?!?!
AAGGHHHHH!!!!!